Artsongs: Ottorino Respighi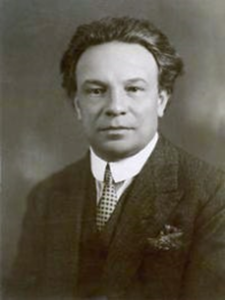 On 12th and 26th May the programme 'Die sanck een Liedt' will be devoted to the Italian composer Ottorino Respighi, famous for the symphony ' The Pines of Rome'. A conversation with Evert Jan Nagtegaal, baritone and programme maker of the programme 'Die sanck een Liedt' about the Art of Song and about Respighi.
By: Lucie Th. Vermij
Why the Art of Song?
'Workers in the fields sung songs together, soldiers on the battlefields sung marching songs,children sing songs while playing, songs are sung during religious meetings. After man had started speaking, he started singing too. These songs were never written down but passed down from generation to generation. Instrumental accompaniments were mostly improvisation. Schubert wrote new songs first and then added a complete accompaniment. The Artsong was born. Songs, Artsong, the Song. A poem which gets and added dimension through melody and accompaniment. So first the words and then the notes.
After Schubert came Schumann, Brahms Strauss and Mahler. In the Netherlands Gerrit Jan van Eijken, Diepenbrock. In France, Fauré, Duparc, Hahn, Debussy. Foster in America and Vaughan Williams in Great Britain. The artsong tooks its place alongside the folksong, in which the text is usually not poetry and the accompaniment doesn't underscore the words.
In the Netherlands song did well, with famous singers giving recitals. People knew the songs and there were vocal series in the concert halls. Concerts by Elly Ameling, Erna Spoorenberg, Udo Reinemann, Schwarzkopf, Janet Baker; sold out. But at the end of last century things went downhill. The younger public no longer learnt French at school, or German, there was less attention for poetry in schools. The classical style of singing was no longer so well understood and there were fewer advocates at the Conservatorium. Fortunately there are still Dutch composers who write new songs, there are young singers who give song recitals,and there are sponsors who make it possible for new repertoire to appear on cd . The artsong is not yet dead.'
What is your programme's approach?
'There is an enormous wealth of songs and in this programme I want to demonstrate many facets of the "Song Diamond" . The programme differentiates itself by the fact that I talk about the music. At the Concertzender we're not normally too fond of talking, but playing the songs without any explanation I think would be missing an opportunity. Having the information as well makes it a bit more interesting .'
Which song composers do you like the most? Which do you like singing?
' I haven't followed my own preferences in the programme. In the interests of a broad programme I even play music which I don't actually find attractive but are of top quality and keep the programme interesting.For myself I prefer to sing romantic songs, started with Schubert and later discovered Brahms, Mahler, Strauss, Tsjaikovski and Vaughan Williams. I love French songs. I love to bare my soul in Mahler.'
You're making two programmes about the composer Ottorino Respighi. Why him?
'Last year the pianist Reinild Mees was in a broadcast with me. Ik interviewed her about her work as accompanist. She gave me three cd's of the complete songs by Respighi. I knew him from the symphonic poems about the fountains and pines of Rome, but had never heard one of his songs. Respighi wrote almost 80 songs (Schubert about 600), so I thought it would be a good idea for the listener to make the acquaintance of these unknown works by Respighi. His music is not particularly innovative, but not old-fashioned either. Italy was very surprised at that time. Of course they had the operas and sickly sweet songs by Tosti. Ottorino's wife Elsa Respighi was a singer and warm advocate of her husband's songs. He used poems by well-known Italian poets, but also translated Shelley and wrote Scottish songs. He became world famous, got a lovely house on the Via Appia and worked hard at his orchestral works, operas and songs. He died young. Strange how quickly his fame faded, even in Italy. But the Fountains and Pines remained intact.'
What did it mean to you to make this radio programme?
'This programme means a lot to me. I had my first singing lessons from Iza Valeton. She came from the song camp. At first I studied a few hundred Schubert songs, then afterwards Schumann and thereafter the same with Brahms. Lots of French songs after that. I had no idea that there was any other repertoire. With Meinard Kraak and Udo Reinemann I studied even more songs and finally with Erna Spoorenberg I got to the Oratorios and a little Opera . So Song is in my veins . The beauty of a song is that in a few minutes you've portrayed the whole story, full of nuances, without scenery, costume,no need for dramatic gestures or movement. Just you and the pianist. You can show how you can colour your voice, cold and warm, whisper or even just shout. I love Song and sharing it with others.'
Did it take a long time to make the programme?
'Yes it took a long time. I don't know everything and had to do a lot of research. I had to listen to the cd's I use, time and read. The booklets you get with cd's are often in tiny letters, so I had to use a magnifying glass to decifer them, translate from French or Italian, it all took time. For days I would sit behind my computer, no complaints, I loved all that research, learnt a lot from it. Then with technician Aart Veerman record it in the studio and he cuts and pastes it like an artist into an hour. I've the time for it , don't perform so often now. Cutting back that's called. I'll be 70 this year, had a good time. I did go to South Korea for Easter, sang Christ in Bach's St Matthew Passion three times. And I teach a lot, which I enjoy very much.'
Where do you get the inspiration for your programmes from?
'I root around in secondhand cd shops, on internet and the Concertzender has a huge library. At concerts I do hear lovely songs. I can recommend myself to listeners who want to clear out song cd's after reading this interview.'
The programme 'Die sanck een Liedt' will be broadcast every two weeks on Sundays between 12.00-13.00.
12 May's broadcast can be listened to via this link.