Clara Schumann: composer of the month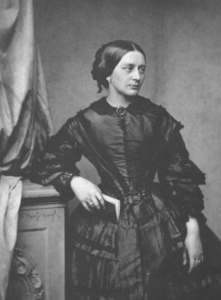 20th May is the date our Composer of the Month, Clara Schumann (1819-1896) died. For a long time she was chiefly known as the wife of Robert Schumann. The second feminist wave in the 60's and 70's stimulated more interest in female composers. Clara Schuman has benefitted from this. As well as being a composer and wife she was one of the best pianists of her time. She performed in the Netherlands with great success. On 5thMay the Concertzender devoted a broadcast to Clara Schumann's piano music. The programme we broadcast on May 15th can be listened to via this link.
If you want to hear more of this composer listen on the coming Tuesdays of this and next month to the series about Clara Schumann, made by Cassandra van Agt.