The 100th journey into space: Space Exposure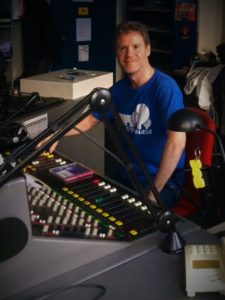 On Sunday 19 May from 19:00 to 21:00 CET, the Concertzender is broadcasting episode #100 of Space Exposure. Roel Janssen makes this programme. The music that he plays ranges from dark danceable uptempo techno to serene melancholic ambient. Roel Jansen says this about his choice of music: 'This is music that allows you to ascend to a higher level and to break out of your daily routine.'
Tell us, who is Roel Janssen?
'I am a journalist, editor, dj/producer and programme maker. I am also a freelance author of crime stories for Panorama and Crimesite. I was a music journalist for many years and since 2015 I have also been a DJ and the maker of the radio programme Space Exposure that is broadcast on the first, third and even the fifth (if there is one) Sunday of each month from 20:00 to 21:00 CET. As a fanatical music fan, I also go to countless concerts and festivals in the Netherlands and in the rest of the world.
In June 2018 I also released my debut album as Space Exposure with the title The Subliminal Serval: a raw and freaky record with electronic music that incorporates IDM, techno, breakbeat, ambient, hiphop, noise, samples, field recordings and contributions from two guest guitarists. Later on this year a follow-up EP will also be released with new and previously unreleased material.'
How would you describe the concept behind your programme?
'The focus of Space Exposure is electronic music. I play mostly IDM (Intelligent Dance Music), electronica, techno, house, rave, dubstep, future trap, drum 'n bass, ambient, instrumental hiphop and related styles. It is primarily experimental music that is not for a mainstream public and often cannot be heard anywhere else, except for perhaps on a few obscure internet radio stations in England. In the playlist I will mix uplifting dark danceable uptempo techno with serene melancholy ambient that takes you on a deeper journey.'
Your programme has the subtitle A Journey into Space. What do you mean?
'It is a musical trip through space. Not specifically through the universe or through time, but because it gives you the freedom to dream. The space that allows you to ascend to a higher level. The music also allows you to break out of your daily routine. The music is almost always electronic, very occassionally I will also include an instrumental hiphop track or something that tends towards new wave, but it will always include some synthesisers. There is also a place for acoustic sounds such as guitars and other traditional instruments in Space Exposure, if the basis of the music is electronic. This is the sort of music that I listen to at home, and also during concerts and festivals.'
Where does your inspiration come from?
'I have a huge collection of CDs. I am also always searching for new music and have access to the websites of many distributors and other platforms. I am often also sent new releases by records labels.'
Who are currently the most important artists in the world of electronic music?
'There are too many to list here. I am a great admirer of the artists on the international labels Planet Mu, Ninja Tune and Warp. These labels are a guarantee of quality with influential artists such as Aphex Twin, Boards Of Canada, Autechre, The Black Dog, Flying Lotus, Bonobo, Ital Tek and Kuedo. These are all artists that impress me by their willingness to experiment and the quality of their sound. There are also interesting things happening on labels such as Hyperdub, Kompakt, R&S Records, Apollo Recordings and Ghostly International. In the Netherlands there are also fine releases on the Amsterdam labels Basserk Records and Atomnation.'
This is music that is not often heard on the radio.
'The music in Space Exposure is indeed not often heard on the radio. My audience is therefore a limited group, but there is a core of dedicated listeners. For many years, Sunday evenings on the Concertzender has attracted the most listeners. This has a lot to do with the weekly programme X-Rated which is broadcast from 21:00 CET. Many of these listeners have also discovered Space Exposure. Other listeners have come from Sensenta, a calm and meandering ambient programme that leads in to Space Exposure. The direct online interactions with listeners through channels such as Twitter are also great. This add another dimension to presenting a radio programme.'
Do you know what type of person listens to your programme?
'We do not do listener surveys at the Concertzender, but do know how many streams are used and therefore have some idea about who is listening. The age of the listeners is between 35 and 60 and there are more men than women. Most listeners are listening at home, but I do sometimes get reactions from listeners who are in the train, in a supermarket or at work. The advantage of streaming is that you can also listen to the programme at other times if you miss it on Sunday evening.'
What do you see looking back at 100 programmes? How many more programmes are still to come?
'I am satisfied when I look back at the 100 episodes of Space Exposure. The start was a bit awkward and there are some episodes that could have been better, but the programme has grown a lot, particularly in the last year. It is more vibrant, the presentation is tighter and the programmes flow better. The livesets in the studio by the producer FilosofischeStilte (2015) from The Hague and by the producer Kettel (2016) from Groningen were also interesting. The joint broadcast by Space Exposure and X-Rated live from the Rewire festival in The Hague (2017) was also special. Each episode of the programme includes a few older tracks but the focus is on new releases. Putting together the playlist is always a lot of fun, selecting the tracks, deciding on the order and then presenting the music to the listeners. In this respect, Space Exposure can continue for many years.'
Written by: Lucie Th. Vermij
Space Exposure by Roel Janssen is broadcast every two weeks on Sunday evenings from 20:00-21:00 CET.
The 100th episode of Space Exposure is broadcast on Sunday 19 May 19:00-21:00 CET. This special programme lasts two hours. The first hour presents the best from the last 4 years of Space Exposure, the second hour is the 'regular' programme.