Acoustic Moods
The Norwegian Førde Festival 2015.
Firoozeh Raeesdana (Iran), Monica Nazaryn (Armenia) and Malin Alander (Norway). Photo Ton Maas
The festival for folk and world music in the Norwegian Førde had its 26th edition this month. Førde distinguishes itself from other festivals in the fact that at least half of the four-day programme consists of performances by artists from the Scandinavian countries and Finland. This year, Ton Maas was there for the second time and reports his experiences to Charlie Crooijmans, of course in the light of the particular music he heard there.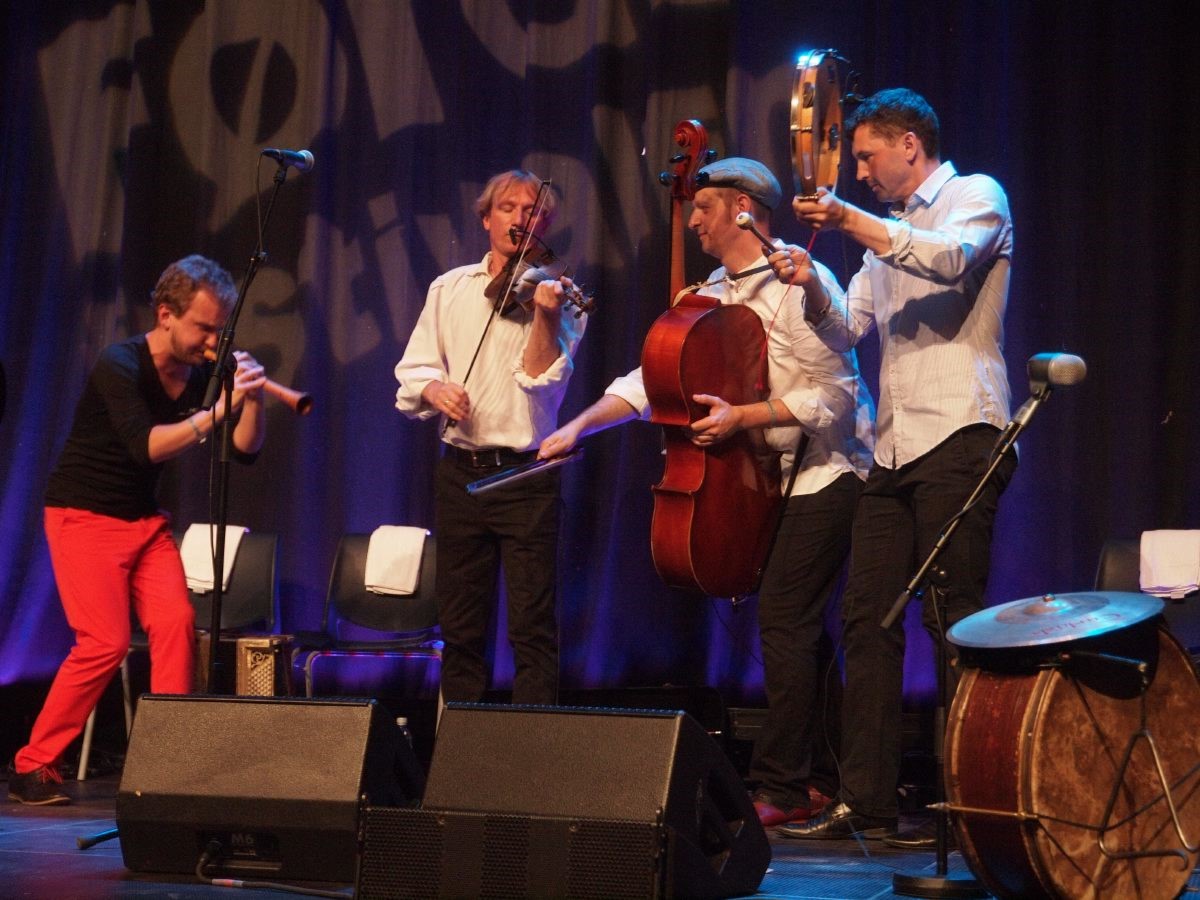 The Janusz Prusinowski Kompania.
Photo Ton Maas

(3'04"): Morning sun of hope / Mahsa Vahdat (Hafez, Vahdat, arr. Gustavsen)
Kirkelig Kulturverksted (2014)
(2'45"): Hayrenikis Djurel / Serine Poghosyan (A. Djivani) YerazArt (2007)
(4'31") Jewels / Mighty Sam McClain & Knut Reiersrud (Reiersrud, Hillestad)
Kirkelig Kulturverksted (2015)
(3'55") Nu solen går net / Unni Løvlid (Samuel Olsen Bruun, Løvlid, Thelin)
Heilo/Grappa (2013)
(2'33") Flouradenn / Annie Ebrel (Ebrel, Del Fra)
Eigen beheer (2014)
(2'19") Eurax Polka / Linda Gytri Trio (Gytri)
LMP (2015)
(6'31") Król i Królowa / Janusz Prusinowski Trio (L. Staff, trad., arr. Prusinowski)
Oriente (2013)
(3'07") Owijak Zapustny / Lautari (trad., arr. Lautari)
Eigen beheer (2015)
(4'31") Ráfi / Vilddas (Jouste, Hirvasvuopio)
Wood (2000)
(4'35") Rull efter Sever in Kjerland / Benedicte Maurseth & Knut Hamre (trad.)
Grappa (2006)
(6'40") Olav Bergsland / Knut Hamre & Steve Tibbetts (trad., arr. Hamre, Tibbetts, Spildo)
Hannibal (1999)
: