Bonum Est
Bonum Est: a programme on Gregorian Chant. Eastern Liturgies 15 – Alongside the Via Egnatia.
In the 98th episode of Bonum Est you will hear music from alongside the old Via Egnatia, the Eastern extension of the Via Appia, from the Adriatic Sea to Constantinople.
So this is music from Turkey, Bulgaria, Epirus and Albania.
1. Ezan (Call to Prayer)
2. Fatiha (The Opening Chapter)
Kani Karaca, Huseyin Ereck & Nail Kesova
CD: The Music of Islam, Vol. 10: Qur'an Recitation, Istanbul, Turkey
(Celestial Harmonies 1418, 1997)
3. Makber (Her Yer Karanlik)
4. Asuman Aglar
Hafiz Burhan, Hafiz Kemal and more
CD: Gazeller – Ottoman-Turkish Vocal Improvisations on 78 rpm Records
(Kalan Müzik Yapim 5099, 1997)
5. Dimo na Rada (Dimo said to Rada)
6. Trima bratya dyulgeri (Three master builder brothers)
7. Zemetresenie v Bulgaria (Earthquake in Bulgaria)
Vulkana Stoyanova, Mita Stoicheva, Parush Parushev e.a.
CD: Song of the Crooked Dance – Early Bulgarian traditional Music 1927-42
(YAZOO 7016, 1998)
8. Peasant girl, they've taken the sheep
9. Alexandra, Song of Epirus
10. The peasant girl, Polyphonic song
11. America, Vlach dance
12. Turtle dove, Polyfonic song
13. Dance of Zagori
Lazaros Rouvas, The Five Gliniotes, Elias Litos and more
CD: Music of Epirus 1925-1940
(FM Records, The Greek Archives 845, 1997)
14. Siko Marola (Sta Op, Mariola)
15. Pende Meres Pendremeni (Married for Five Days)
Pagona Athanasiou and Savvas Siatras, vocals. Lazaros Efthymiou, violin. Petros Chalkias & Napoleon Damos, clarinetCD: Miroloi (Klaagliederen en Dansen uit Epirus)
(VPRO Eigen Wijs, EW 9305, 1995)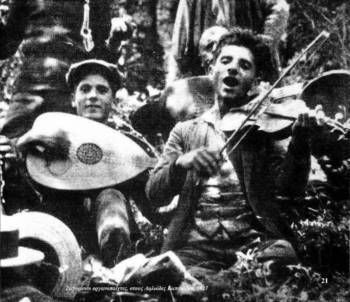 Producer: