Damas del Tango
Argentinian tango in all its aspects, by Joep à Campo. Damas del Tango part 1. This is a repeat of 16 October 2015 and the first broadcast from the series, in which the development of the genre during the 20th century clearly stands out in the performances of the following singers: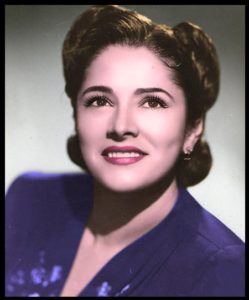 Mercedes Simone.
Linda Thelma,
Rosita Quiroga,
Azucena Maizani,
Tita Merello,
Ada Falcón,
Libertad Lamarque,
Mercedes Simone,
Nelly Omar,
Isabel Bayrakdarian,
Mercedes Sosa,
Adriana Varela.
Mercedes Sosa.
Theme song: Emancipación / Pugliese from Argentina.
Linda Thelma ; El pechador ; piano de Arturo De Siano
De Mi Barrio ; Rosita Quiroga_Various: Tango Ladies_El Tango hecho Carne
Horas Tristes ; Rosita Quiroga _Various: Tango Ladies_El Tango hecho Carne
Mariposa Azul ; Azucena Maizani_Various: Tango Ladies_El Tango hecho Carne
Marionetas ; Azucena Maizani_Various: Tango Ladies_El Tango hecho Carne
Niño Bien ; Tita Merello_Various: Tango Ladies_El Tango hecho Carne
Milonga Porteña ; Tita Merello_Various: Tango Ladies_El Tango hecho
Tengo Miedo ; Ada Falcón_Various: Tango Ladies_El Tango hecho Carne
Lo Que Nunca Te Dirán ; Ada Falcón_Various: Tango Ladies_El Tango hecho Carne
Julian ; Libertad Lamarque_Various: Tango Ladies_El Tango hecho Carne
Madreselva ; Libertad Lamarque_Various: Tango Ladies_El Tango hecho Carne
Cuando Silba el Viento ; Mercedes Simone_Various: Tango Ladies_El Tango hecho Carne
El Viejito del Acordeon ; Mercedes Simone_Various: Tango Ladies_El Tango hecho Carne
Desde el Alma ; Nelly Omar_Various: Tango Ladies_El Tango hecho Carne
Nelly Omar ; Rosas de Otoño
Tango notturno ; Isabel Bayrakdarian_ Tango notturno
Nada ; Mercedes Sosa ; Cantora 1
Malena ; Adriana Varela_Maquillaje