Indian virtuosos performing in Den Haag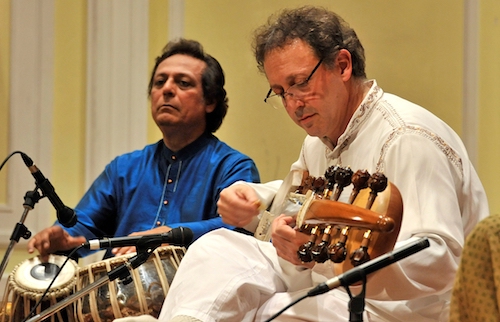 On Saturday 18th November 2017 Swapan Chaudhuri and Ken Zuckerman are performing  in Theater a/h Spui in Den Haag. This one-off performance is a first in the Netherlands with two toppers from the Indian classical music world. Indian classical music is largely based on improvisation and transports the public into a world of sensitive melodies and complex rhythms.
Swapan Chaudhuri is one of the world top in the realm of the tabla. This virtuoso together with artists such as Ravi Shankar and Ali Akbar Khan is responsible for the spreading of Indian classical music outside India. He is renowned for his crystal clear sound and the performance of sophisticated compositions on the tabla. Outside India he has achieved international recognition: his albums Legacy (1997) and Passing on the Tradition (1998) were both nominated for a Grammy-award.
Ken Zuckerman is a special name within Indian classical music. The American sarod-player is a disciple of the world famous sarod-master Ali Akbar Khan. Together with him he has performed all over the world and has developed into one of the most famous sarod artists. His album Diaspora Sefardi (2009) in which Zuckerman took part was also nominated for a Grammy-award. Ken Zuckerman and Swapan Chaudhuri have been performing together for 35 years and are for the first time to be heard in the Netherlands .
Tickets are available via www.hnt.nl* or at the ticket desk at Theater a/h Spui.
*Full ticketlink: https://www.hnt.nl/voorstellingen/998/Dharohar_Foundation/Swapan_Chaudhuri_Tabla_en_Ken_Zuckerman_Sarod_