Sound the Trumpet, Strike the Viol!
A programme with recently released CDs with classical music. Early music expert Kees Koudstaal selects the most beautiful CDs with early and classical music from the shelves of his own shop especially for you. He also tells a bit about his choices.
Antonio Vivaldi (1678-1741)
1. 'Gloria', RV 589
Performing artists: Le Concert Spirituel conducted by Hervé Niquet
(CD: Alpha no. 3760014192227, 2016)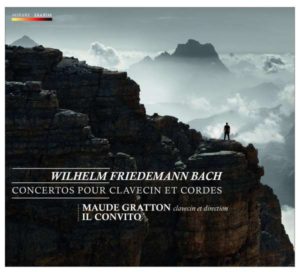 Giovanni Battista Pergolesi (1710-1736)
2. Sinfonia à violoncello solo
Performing artists: Gaetano Nasillo, cello. Michele Barchi, harpsichord. Sara Bennici, cello
(CD: Arcana no. 3760195733851, 2016)
Wilhelm Friedemann Bach (1710-1784)
3. Concerto for harpsichord and strings in d minor, Falck 65
Performing artists: Maude Gratton, harpsichord. Ensemble Il Convito
(CD: Mirare no. 3760127221623, 2016)
All CDs can be ordered here: Prelude Klassieke Muziek in Baarn.
Produced by: