Nuove Musiche
This program features an extraordinary new early music release.
This hour, the album "Jehan de Lescurel, Complete Love Songs Book', with 14th century French music by Ensemble Céladon, conducted by Paulin Bündgen.
Jehan de Lescurel (fl. 1320)
1. Amour, voulés vous acorder
2. A vous douce debonnaire
3. Amours, cent mille mercyz
4. Amours, que vous ai meffait
5. Abundance de felonie
6. Bietris est mes delis
7. Bonne Amour me rent
8. Bontés, sen, valours et pris
9. Belle, com loiaus amans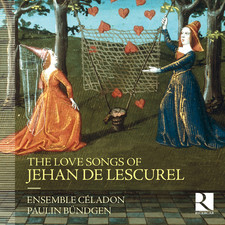 10. Bonnement m'agrée
11. Comment que pour l'eloignance
12. De gracieuse dame amer
13. De la grant joie d'amours
14. Douce Amour, confortez moi
15. Dame, vo regars m'ont mis en la voie
16. Dame gracieuse et belle
17. Dame, par vo dous regart
18. Diex, quant la verrai
19. Fi, mesdisan esragié
20. Giulleurs me font mout souvent
21. Gracieusette
22. Aanvulling: Dis tans plus qu'il ne faudroit flours
Ensemble Céladon conducted by Paulin Bündgen, countertenor. Anne Delafosse en Clara Coutouly, soprano. Gwénaël Bihan, recorder. Nolwenn Le Guern, vièle and rebab. Florent Marie, medieval lute. Angélique Mauillon, gothic harp. Ludwin Bernaténé, percussion.
Label: Ricercar RIC 366, 2016
Produced by: