Acoustic Moods
Ton Maas and Charlie Crooijmans with new show cases in World Music. A very special episode of Acoustic Moods, because Flamenco Biënnale Nederland kicks off today. Karin van den Boogaert welcomes Art Director Ernestina van de Noort to the studio.

Cutting edge flamenco, that is what Flamenco Biënnale Nederland is all about. The biannual, international festival for outstanding music and dance shows the latest advances in flamenco from 13 to 29 January 2017, and presents visionary creators, huge stars and young up-and-coming talent. The sixth edition of this festival again provides a colourful taster of flamenco, performed by the best of the best in the world of flamenco.
Some of the performers at the Biënnale are: Rocío Molina, Isabel Bayón, Manuel Liñán, Rocío Márquez, Leonor Leal, José Valencia, Antonio Canales, Mercedes Ruiz, David & Alfredo Lagos, Orquesta Chekara, Rafael Riqueni, Pepe Habichuela, Enrike Solinís & Euskal Barrokensemble and others.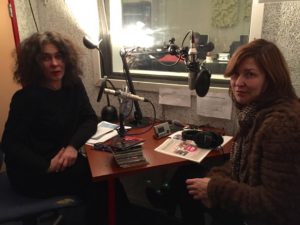 Karin van den Boogaert talks to Ernestina van de Noort about the Biënnale and flamenco in general. Ernestina plays us a large amount of music samples. It's a wide variety, with different kinds and styles of flamenco.
Ernestina: 'I recently read a chapter of a book by anthropologist Claude Lévi-Strauss. He wrote: music grabs you by the guts. This is especially true for flamenco. The Biënnale is for me a success if the audience exits the venue sort of cleansed, as if they've been touched, has lived through it. If they felt it in their guts.'
The festival visits a total of 8 cities: Amsterdam, Rotterdam, Utrecht, Den Haag and Eindhoven, and for the first time, Amersfoort and Maastricht. It even hops across the border and visits Antwerp.
For more information: visit the website of the Flamenco Biënnale Nederland
For performances: check the programme
Article by Mixed Worldmusic:
1. Hippytano / Diego Carrasco
Morao del Alma (bulería)
2. Morao Morao / Moraíto Chico
Mariavala (soleá)
3. Diego Carrasco / diego Carrasco Nuevos medios collection
El Latero  (soleá)
4. Punto de Fuga / Alfredo Lagos
All Free , (soleá por bulería) with the feet of Israel Galván
5. El Pequeño Reloj / Enrique Morente & Pepe Habichuela
Calles de Cádiz (alegrías)
6. Pepe Marchena
En un Potrerito (guajira)
7. El Niño / Roció Márquez
El año del Cometa (milonga)
8. Curioso Impertinent / Tino van der Sman
Curiosos impertinentes (rumba)
9. Orilla del Mundo / Alfonso Aroca
Coraje (bulería)
10. Colores del Sur / Enrique Solinís
Jácaras
Antonio de Santa Cruz
11. Pedro Bacan & les clan de Pinini
José Valencia
(soléa)
Produced by: