Concertzender Now
Concertzender Outlook on this week's musical headlines produced by Bart v.d. Horst. With the CD of the week, a schedule of upcoming concerts and interviews with guests. Host: Evert Jan Nagtegaal
Responses to this broadcast can be sent via e-mail to actueel@concertzender.nl
1.Intro
Beethoven (salsa version), Cinco Salsa.
Adaptation: Hovedøen Social Club, Kringkastinsorkest & Sverre Indrik Joner
2. BUMA Classical Convention in TivoliVredenburg
Thursday 13 October,
Utrecht, TivoliVredenburg
Programme: BUMA Classical Convention, including the naming of the Composer Laureate.
more info
Music: John Adams, Concerto for Violin and Orchestra: III. Toccare.
Performed by: BBC Symphony Orchestra olv. Andrew Litton.  Tamsin Waley-Cohen – violiin.
3. Interview Regine Hilhorst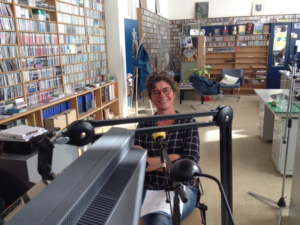 Regine is coming over to talk about the musical show Tot het komt.
Music: Regine Hilhorst, Nooit meer, Onbewogen, Huil, Zoon.
Performed by: Regine Hilhorst, Jazz trio Robinson, Freitag & Caruso.
4. CD of the Week
Title: Gershwin in Hollywood
Musicians: John Wilson Orchestra & Louise Dearman, Matthew Ford
[Warner 0825646493739]
Music: Gershwin, Rhapsody In Blue: Overture (Arranged By Hendorf)
Performed by: The  John Wilson Orchestra
5. Hoor es…….
Column by RobertJan de Neeve
Music: Joep Straesser, faites vos jeux
Performed by: Klaas Vellinga
6. Interview Olga de Kort
Olga de Kort is giving a lecture on 8 October, starting 14.00 hours at the Hermitage Amsterdam:
Catharina's musical universe
Music: Dmitri Bortnjanski,  Sonata in F, part 1; Ivan Handosjkin, Variations on a Russian song.
Performed by: Tatjana Samsonova – piano.
Music: Vincenzo Manfredini,  A noi viv, donna eccelsa, from opera Carlo Magno.
Performed by: Cecilia Bartoli – soprano.
7. Aziza Brahim
Vrijdag 7 oktober, aanvang 20.30 uur.
Rotterdam, De Doelen.
Muziek: Aziza Brahim, Julud
Uitgevoerd door: Aziza Brahim
8. Sir Neville Marriner (1924-2016)
Muziek: Mozart, Exultate Jubilate.
Uitgevoerd door: Academy  of St. Martin in the Fields olv. Sir Neville Marriner, Erna Spoorenberg – sopraan.
9. Sabrina Starke
Zaterdag 8 oktober, aanvang 20.00 uur.
Utrecht, TivoliVredenburg.
Muziek: Sunny Days,  Next Man.
Uitgevoerd door: Sabrina Starke.
10. De Musea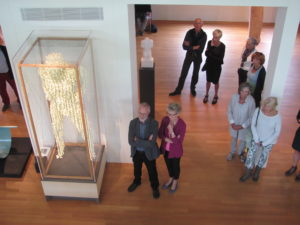 2 oktober 2016 tot en met 19 maart 2017
Het Depot, Wageningen.
De tentoonstelling: Sprekende beelden, Mythologie, Verhalen en Bibliotheken. Te zien t/m 18 maart 2017.
Muziek: Mikis Theodorakis,  Ode aan Zeus.
Uitgevoerd door: Boston Pops Orchestra en het Tanglewood Festival Chorus olv John Williams.
11. Masterclass Ralph van Raat
Dinsdag 11 oktober, aanvang 19.30 uur.
Eindhoven, Muziekgebouw (Kleine Zaal)
Programma: masterclass
Uitvoerenden: Ralph van Raat – piano
meer info
Muziek: Frederic Rzewski, The people united will never be defeated!
Uitgevoerd door: Ralph van Raat – piano
12. Concertgebouw, James Ehnes
Donderdag 6 oktober, 20.15 uur.
Amsterdam, Kleine Zaal Concertgebouw
Programma: J.S. Bach – Eerste sonate in g, BWV 1001,  Eerste partita in b, BWV 1002,  Derde sonate in C, BWV 1005.
Musici: James Ehnes – viool
meer info
Muziek: Sergei Prokofiev, Viool Sonate No. 1 in F klein, Op. 80: IV. Allegrissimo – Poco più tranquillo – Allegrissimo I – Poco meno – Andante assai, come primo
Uitgevoerd door: James Ehnes – viool, Andrew Armstrong – piano