Exitos Musicales
Golden Age of Exotica, collected by Henk Braaksma.
Yma Sumac – Daughter of  The Sun God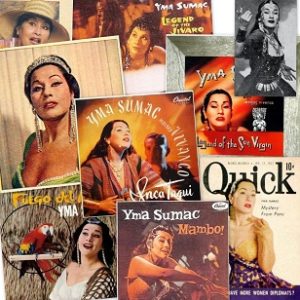 It was 1950/1951 when radio stations all over the world played the wondrous record of an exotic singer who had a range of nearly 5 octaves multiple times a day. In days before the Internet or Facebook, people wildly speculated about her. 'She was just a girl in New York of whom people spelled her name back to front.'Her voice was manipulated at the recording studio.' 'She was the daughter of the Sungod' and so on and so on. We have established she was 'simply' born in Peru and was discoverd in 1941 by a local clerk who let her perform at festivals. By 1943, records were made of her 'simply' Peruvian repertoire with her Inca Taky Trio. But even coming to America and performing in clubs and hotels first didn't lead to anything. This changed in 1950 when the record manager of Capitol Records discovered her and saw her potential. He did feel her songs needed be adapted to orchestral music and then famous orchestra leader Les Baxter was up for the job. The rest is history. Without any promotion, the records sold like hot cakes and her stardom lasted at least 9 yars. She also performed in the Netherlands, where your 17-year old programme maker was present. When American audiences started to become sick of the singer with that special gift, party leader Nikita Chroetsjov of the USSR, who was a huge fan, flew her in to Russia for six months. After that, it was getting quieter and quieter around Yma Sumac. She was still performing around the world in important halls to 'show her trick'. This may sound disrespectful, but her unlikely singing qualities stopped her from having a 'normal' singin career. She kept but a small group of fans from around the world and there are two 'official' websites online. Enough reasons to fly through her most significant records in the upcoming hour.
01. Virgin of the Sun God (Taita Inty)
02. Choladas (Dance of the Moon Festival) – Xtabay
03. Birds – Flahooley
04. Najala's Lament – Flahooley
05. El Picaflor (The Hummingbird) – Inca Taky Trío –
Odeón 78 No. 330
06. La Benita – Inca Taky Trío – Odeón 78 No. 274
07. Amor Indio (Indian Love) – Inca Taky Trío –
Odeón 78 No. 274
08. Suray Surita – Capitol (25) L 299 (1951)
09. Kuyaway (Inca Love Song) – Capitol (25) L 299
(1951)
10. Babalú – single
11. Wimoweh – single
12. Incacho (Royal Anthem) – Capitol (25) L 423
13. Llulla Mak'ta (Andean Don Juan) – Capitol (25) L 423
14. Carnavalito Boliviano – Capitol H 564
15. Taki Rari – Capitol H 564
16. Mi Palomita (Mijn Duif) – Capitol T 1169 (1959)
17. Virgenes del Sol (Sun Virgins) – Capitol T 1169
(1959)
18. Aulláy (Lullaby) – Capitol T 770 (1957)
19. Russische volksmelodie – Moskou 1961 Live
20. Ripui (Farewell) – Capitol (25) L 423
Produced by: