Disc-Cover!
Interesting albums from the folk and roots music history, by Marius Roeting.
'Jiddische lieder des Volkssängers und Arbeitsdichter Mordechai Gebirgig'  by Manfred Lemm & Ensemble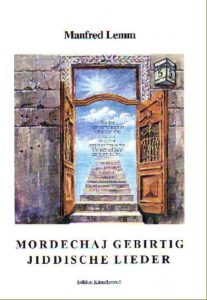 A special episode of Disc-Cover! this time, because we won't follow protocol. In Disc-Cover!, dusty, forgotten or repressed pearls from the history of roots music is reintroduced to you. This time, we do not just choose one album, but three. In fact, we had four albums to choose from. We conducted a lot of reseach into the interpretations of songs by the last of the great Yiddish bards, folk singer and labour poet Mordechaj Gebirtig. He has not performed them himself, as Gebirtig was killed in 1942 in the ghetto in Polish Krakau. Germand singer-guitarist Manfred Lemm became obsessed by the works of Gebertig and collected, researched and adapted all his songs. Lemm put poems to music and brought his collection together in a weighty book, including lyrics, translations and music notations through which a peek into the life of Gebirtig is visible. Background stories and interesting facts were added to all songs and poems. There is also an introduction into Yiddish, so all the original beauty of the poems can be understood. We made a selection of three out of Lemm's four albums, which he recorded alongside his hard work. We present them under Lemm's own umbrella term 'Jiddische lieder des Volkssängers und Arbeitsdichter Mordechai Gebirtig'.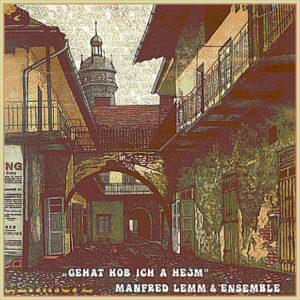 Manfred Lemm & Ensemble – Gehat Hob Ich A Hejm (vol 1) – Edition Künstlertreff EKCD 171052
1.     In geto 2.43
2.     Hungerik dajn kezele 4.45
3.     Kartofl-sup mit schwomen 3.55
4.     Kinder-jorn 5.45.
5.     Kum, Lejbke, tanzn 4.28
6.     In fabrik 2.06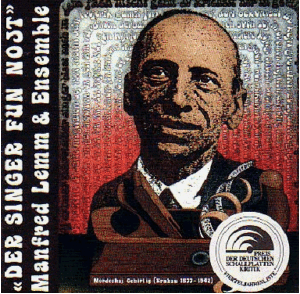 Manfred Lemm & Ensemble – Der singer fun nojt (vol 2) – Edition Künstlertreff EKCD 171053
7.     Der singer fun nojt 4.29
8.     Arbetloser-marsch 1.31
9.     Undser schtetl brent 2.46
10.  Huljet, huljet, kinderlech 3.00
11.  Oj, bruderl, lechajim – lechajim klesmorim 5.20
12.  Dejlke 2.29
Manfred Lemm – Majn jowl (vol 3) – Edition Künstlertreff EKCD 171058
13.  Majn jowl 2.48
14.  Di sun is fargangen 3.36
15.  Ich hob dich lib 3.30
16.  Hej, klesmorim 3.19
Produced by: