Concertzender Now
Weekly actualities, with the CD of the week, the concert agenda and interviews with guests. Presentation Stef Lokin.
Interview
---
Our guest is Kristina Fuchs to talk about the short concert tour which she makes with Jeroen van Vliet, piano and Mete Erker, saxophone
more info

---
An interview by telephone with conductor Wolfgang Lange about the project Pokajanen of Arvo Pärt by the Utrecht's Chamber Choir
---
The Museums
---
Panorama Mesdag, The Hague
Exhibition: Pieter de Josselin de Jong, a forgotten master.
On show up to and including 11 February
The end of the nineteenth century was an era wherein traditions and new developments went hand in hand. It is exactly this contradiction which can be observed in the work of Pieter De Josselin de Jong. This makes him a unique master of the nineteenth century.
more info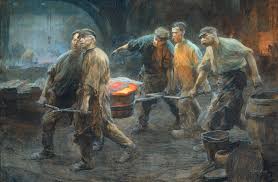 ---
Playlist
---
Schubert – Erlkonig
Thomas Quasthoff, European Chamber Orchestra conducted by Claudio Abbado
---
Title: Forbidden Music in World War II
Composer: Paul Hermann
Artists: Burkhard Maiss / Bogdan Jainu e.a.
[EAN8711801015903]
more info
Paul Hermann – Cello concert – Allegro cantabile
Clive Greensmith, cello and Beth Nam, piano
---
Old Dutch song – Er was eens een boer
Kristina Fuchs, vocals. Jeroen van Vliet, piano. Mete Erker, saxophone
Old Dutch song – Heer Albert 
Kristina Fuchs, vocals. Jeroen van Vliet, piano. Mete Erker, saxophone
Old Dutch song – O dag, o langgewensten dag
Kristina Fuchs, vocals. Jeroen van Vliet, piano. Mete Erker, saxophone
---
Prokofiev – Sonata opus 119 part III Allegro, ma non troppo
Nina Kotova, cello. Fabio Bindini, piano
---
Trio Marcin Wasilewski – January
---
Johan Wagenaar – Overture The philosophical Princess, opus 39
Radio Symphony Orchestra conducted by Eri Klas
---
Arnold Schönberg – String quartet no. 2, opus 10, part 2 – Sehr rasch
Gringolts Quartet
---
Karlheinz Stockhausen – fragment from the Helicopter String Quartet
Arditti Streichquartett
---
Hasse –  Siroe, re di persia acte 2 Se p,ugnar non sai col fato
Armonia Athena conducted by Gerge Petrou. Lauren Snouffer, soprano
---
Pärt – Pokajanen, Ikos
Capella Amsterdam
---
Pärt Pokajanen – Ode IV
Capella Amsterdam
---
Tin men and the Telephone – Skippy
---
Tomaso Albinoni – Trattinementi armonici per camera, sonata no. 10 in C minor
Guillaume Rebinguet-Sudre, Claire Gratton and Jean Luc-Ho
---
Jalal Chekara – Montes de Tetuan
---
Produced by: