World Minerals
Sarangi player Ram Narayan and sitar player Nikhil Banerjee.
Tonight we have two celebrities from the Indian raga music: sarangi player Ram Narayan and sitar player Nikhil Banerjee.
Ram Narayan was born in 1927 and plays sarangi, a wooden string instrument. From the Persian, sarangi means three colours, and then it is a reference to three melody strings of the instrument, which are played with the bow and nails.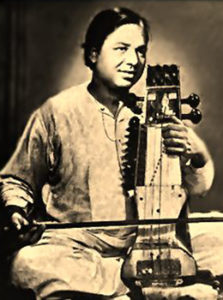 In the popular Indian speech the word sarangi means a hundred colours, and that is a reference to the 36 resonance strings on the instrument. Thanks to these resonance strings the sarangi player can conjure an enormous wealth of timbres from the instrument. Sounds that, more than on any other instrument, approach the sound of the human voice. The sarangi is within the raga music both an accompanying instrument and an important solo instrument.
Ram Narayan is seen as the most important sarangi player of the twentieth century. In his playing style he is strongly influenced by singer Abdul Wahid Khan, an important representative of the Kirana Gharana music style.
Two recordings of Ram Narayan can be heard, originating from a rare LP from 1957 of the Indian label Solomon's Mines: raga Asavari and then the raga Des. Ram Narayan is accompanied on the tabla by  Abdul Karim.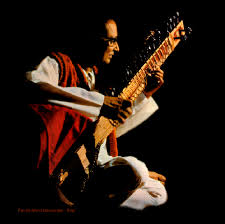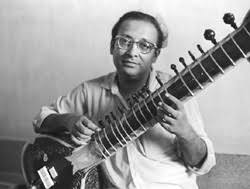 World-famous sitar player Nikhil Banerjee was born in 1931 and passed away in 1986 at the age of 54, as a consequence of a heart attack. Nikhil Banerjee belongs to, as regards to the sitar, the Great Three of the twentieth century; himself, Vilayat Khan and Ravi Shankar. Nikhil Banerjee was a musical prodigy. Already at the age of nine he played in service of All India Radio. The great musician and guru Ustad Allauddin Khan, the founder of the Senia Maihar music style, was so impressed by Nikhil Banerjee, that he took him as his student at the age of sixteen. Nikhil Banerjee was also taught by Allauddin Khan's son, the world-famous sarod player Ali Akbar Khan and by Allauddin Khan's daughter Annapurna Devi, who is renowned for her excellent play on the surbahar/bass sitar. Of great influence on Nikhil Banerjee's musical development was also singer Amir Khan of the Kirana Gharana music style. Via the school of these versatile musicians Nikhil Banerjee developed his own playing style on the sitar, which made him famous and loved worldwide.
Of Nikhil Banerjee is a beautiful recording from 1982 of the Raga Kafi. He is accompanied on the tabla by Zakir Hussain, India's most famous tabla player.
During the introduction:
Part of Raag Des – Ram Narayan, sarangi; Abdul Karim, tabla
album: Ram Narayan plays sarangi – The Indian musical instrument
Solomon's Mines/Bombay 7, C 1957
During the introduction:
Part of Raag Kafi – Nikhil Banerjee, sitar; Zakir Hussain, tabla
Recording of the international music festival in Kalamandir Aochar, 20 December 1982
Subsequently:
Raag Asavari – Ram Narayan, sarangi; Abdul Karim, tabla
album: Ram Narayan plays sarangi – The Indian musical instrument
Solomon's Mines/Bombay 7, C 1957
Raag Des – Ram Narayan, sarangi; Abdul Karim, tabla
album: Ram Narayan plays sarangi – The Indian musical instrument
Solomon's Mines/Bombay 7, C 1957
Raag Kafi – Nikhil Banerjee, sitar; Zakir Hussain, tabla
Recording of the international music festival in Kalamandir Aochar, 20 December 1982
Produced by: