Concertzender Live
Live recordings made by de Concertzender, of concerts from around the country (World music).
In Concertzender Live, we'll go back today to 22 November 2014.
TangoZZs&More performed then together with some guest musicians in the Toonzaal, 's-Hertogenbosch.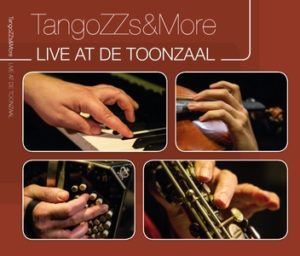 Musicians:
Ruud Bergamin, saxophone
Wim Warman, piano
Santiago Cimadevilla, Argentinian bandoneon
Razana Tsymbalova, Russian violinist
Listen to the first part of this performance.
01. Nostalgias
02. Catorce de Septiembre
03. A moment of silence
04. La Casita de mis viejos
05. Romance de Barrio
06. Atmosphere
07. Tango de la hoistoria
08. Candomeada
09. El chocio
10. La Cachila
11. Los Mareados
12. Paisaje
13. Milonga Triste
14. Cuccaro Silueta Portena
Recording technique: Kees van de Wiel
Composition: Benno Wormgoor
Produced by: