Acoustic Roots
Mariana Sadovska met haar programma Ukrainian Calling
Mariana Sadovska was onze gast in de werfkelder van De Kargadoor, Utrecht, met haar liederenprogramma Ukrainian Callings, dit zijn volksliedjes van het Oekraïense platteland.Haar live performance is expressief en overdonderend.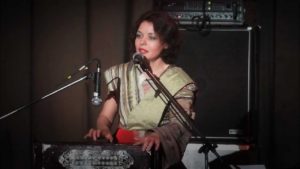 Mariana Sadovska, geboren in Lviv, Oekraïne, verzamelde traditionele volksliederen en -verhalen tijdens haar vele reizen door Oekraïne.
Haar programma Ukrainian Callings voert je mee over het Oekraïense platteland. Met haar expressieve stem vertolkt ze oude volksliedjes vol passie en dramatiek, waarbij ze zichzelf begeleidt op een harmonium. Ze weet haar publiek ademloos te boeien.
Zelf noemt Sadovska Ukrainian Callings 'een krachtige fusie tussen zingen en storytelling': 'I do not sing songs I found in books. Each song I sing was given to me by a specific woman. I heard the story of the song, learned the way it should be sung, and understood that a song can be the map which leads you to your life.
Playlist:
1. The Star Asked – Traditional
2. Vdova – Traditional
3. Calling Bird
4. Putyrala
5. Midsummer Night
6. Song of Farwell – Traditional
7. Years of my Youth – Traditional
Hoe vang je een grote paradijsvogel in een klein netje? Dat lukt niet.
Bij opnames proberen we het altijd precies op de programma lengte van één uur uit te komen.
Deze aflevering van Acoustic Roots verliep zo bijzonder en er ontstonden zulke interessante gesprekken, waardoor de live opname aanzienlijk langer werd dan de beschikbare uitzendtijd. Bij de Concertzender gaat het natuurlijk primair om de muziek. De schaar moest dus in het gevleugelde en inspirerende verhaal van Mariana. Onherroepelijk moest het begrip: 'Kill your darlings' toegepast worden: met pijn in het hart keuzes maken en delen van de gesprekken wegsnijden, in de hoop dat de essentie van het verhaal niet verloren gaat. Dit resulteerde in een uitpuilende prullemand met proza. We hebben echter besloten om toch hieronder apart de integrale gesprekken aan te bieden.
1e gesprek tussen Karin en Mariana Sadovska:
2e gesprek tussen Karin en Mariana Sadovska:
3e gesprek tussen Karin en Mariana, met Adriana Bron die Mariana naar Nederland haalde:
Produced by: