Carib Calling
Special Guest: Guilly Koster. Music from Suriname, Caribbean and South America. A program based on an idea by Noraly Beyer, around 'Special Guests' who are allowed to determine their theme and the music themselves.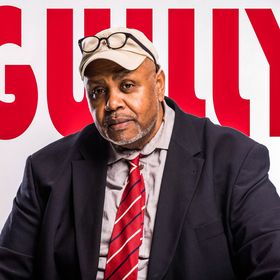 Special Guest
Guilly Koster
Theme
I actually wanted to become a musician.
Hostess
Noraly Beyer
Guilly (Guillaume) Koster, program maker, television presenter, documentary maker, theater producer, journalist and writer.
In 1975 he is one of the founders of the 'Milestones', a group of young black people in the Amsterdam Bijlmer. The Milestones made the play 'Faya Siton' (Hete Steen), where poet Jules Niemel wrote the script for.
As a program maker and presenter for television, he is known by the VPRO, NTR, de Humanistische omroep & MTNL.
Music has always been Guilly's passion. He was asked by Paul Ackett to present the tuinpaviljoen at the North Sea Jazz Festival. He has done this for 20 years together with the greatest jazz musicians in the world.
Today he swings the scepter at the New Media Platform (NMP), an independent multimedia site that tries to make cultural diversity in the Netherlands visible.
* Publication: De Lakjurk, Gully Koster, Publisher Conserve
* Video: Selfportrait Guilly Koster
Play list
1. Baka Jari, Guilly Koster
2. De tijd zal het leren, Guilly Koster
3. Central Park, Chick Corea
4. Flower Princess, Guilly Koster
5. Power, Guilly Koster
6. My Favorite Things, Robby Harman
7. Spain, Al Jareau
8. No Woman, No Cry, Guilly Koster
9. Check je hart, Guilly Koster
Production & direction
Cobie Ivens

With thanks to
Salto Amsterdam

Repetitions
Saturday 12 May 2018, at 03:00 & 22:00
Producer & presenter: