The Wandering Microphone
Field recordings and historical recordings. Episode:
Congo – traditional music by Mangbetu, Tshokwe and Salampasu
Listen to several recordings that were made under the auspices of the newly reopened Africa Museum in Tervuren (go to www.africamuseum.be). These recordings come from the cd series 'Anthologie de la musique congolaise' and were originally published by the Fonti Musicali label.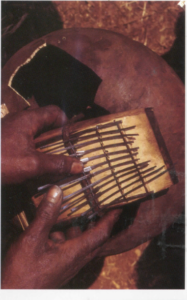 In succession you'll hear Ikembe recordings performed by Mangbetu in Northeastern Congo, recorded by Didier Dumolin, then two songs by Tshokwe du Bandundu from Western Congo. We'll end with several field recordings by Jos Gansemans who, as editor, was also responsible for this well documented cd series. In 1973 he made several recordings with the Salampasu in the Kasai region.
Playlist:
Ikembe (Beyru) (4'28)
Ikembe (Mangbelu) (3'32)
Ikembe (Mangbelu) (4'59)
CD : Anthologie de la musique congolaise , vol. 3 Musiques du pays des Mangbetu
( Fonti Musicali fmd 403]
Mama yai Lienga (9'21)
Khenda Mama (6'13)
CD : Anthologie de la musique congolaise , vol. 35 Musiques des Tshokwe du Bandundu ( Fonti Musicali fmd 405]
Misengu [Pt. 2 (4'17)
Chant en l'honneur du chef Tulume (9'59)
Izonga namwasha (5'43)
Muyenga (5'25)
10. Tshisani (5'00)
CD : Anthologie de la musique congolaise , vol. 4 Musiques des Salampasu ( Fonti Musicali fmd 404]