Orient Express
Traditional classical music from India by the Ars Choralis Coeln ensemble.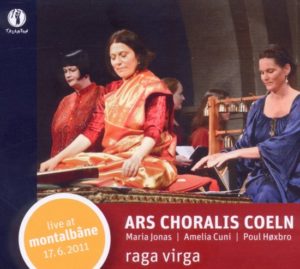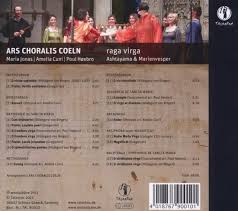 Indian 'Dhrupad' songs, performed by the ensemble Ars Choralis Coeln meet the hymn of Hildegard von Bingen (Hildegard was a theologian, medical doctor, prophet, poet and composer). No other woman in the Middle Ages has been as influential and versatile as Hildegard von Bingen (1098-1179), abbess of a monastery near Bingen on the Rhine in Germany. This 'Live' performance took place in 2011 at the German Montalbàne Festival.
The Ars Choralis Coeln is a choir of female voices directed by Maria Jonas, combining individually timed voices in the pursuit of an authentic style. The performance was a successful experiment in a concert that connected the Eastern and Western worlds. Both worlds stem from the context of contemplation in monasteries and temples.
Cd. Raga Virga – Ars Choralis Coeln – Live at Montalbàne Festival 2011.
Label: Talanton (2012), code: TAL90010.
Produced by:

Cobie Ivens