Orient Express
Music of the oriental Jews from North Africa, Yemen & Bukhara.
Authentic field recordings from 1957, by Deben Bhattacharya *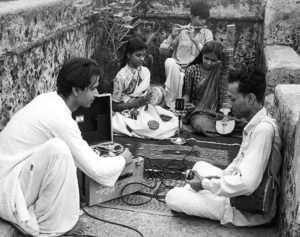 These recordings were made in 1957 and present Jewish music from North Africa (Morocco, Algeria, Tunisia), Yemen (South-West Arabia) and Bukhara (Uzbekistan, Central Asia).
The music is played on authentic instruments such as the Arabic lute, the zither, the drum, the flute (Yemen), the Uzbek dulcimer, the Uzbek violin, the lute and even kerosene tins.
* Deben Bhattacharya was a Bengali radio producer, record producer, ethnomusicologist, anthropologist, documentary maker, photographer, translator, poet, writer, teacher and advisor in folk music.
Cd. Music of the oriental Jews from North Africa, Yemen & Bukhara.
Label: Arc music (2014), code: EUCD2513 | VIDEO
Produced by: