World Minerals
Recordings of two American singer-songwriters: Lori McKenna and Sara Bareilles
Lori McKenna, born in December 1968, is an American country and folk singer. She's lived in Staunton, Massachusetts, her whole life, has been married for thirty years and is a mother of five children. She gets inspiration for most of her songs from her family life and her family history, as as can be heard, for example, on her most recently released album The Tree. They are all songs with a calm, honest look at everyday life.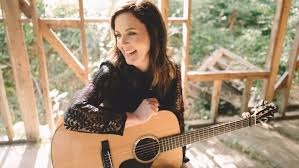 Lori McKenna can be counted among the very best American songwriters. She's been writing songs non-stop for decades and is not only known and celebrated for the songs she's recorded herself, but also for the songs she wrote for – or in collaboration with – other musicians like Alison Krauss, Tim McGraw, Reba McEntire, Keith Urban, Lady Gaga, and … Sara Bareilles, the other American singer-songwriter this episode is about. 
Lori McKenna has won several important music awards, including a couple of Grammy Awards and several Country Music Association Awards 
The well-known American singer-songwriter Sara Bareilleis, who was born in December 1979 in Eureka, California, now lives in New York. When asked to describe her music, her answer is: 'piano based pop soul'. In 2007 the song Love Song from her second album Little Voice, received international acclaim. Sara Bareilles's work is very versatile. Aside from making music, she's also appeared as an actor in several tv series and she's written a book of stories about the role music has played in her life. In 2018 she was cast as Maria Magdalena in the NBC live television adaption of Jesus Christ Superstar. She also wrote the music for the successful Broadway musical Waitress; she also played the main character. A production of Waitress will open in October 2020 in The Netherlands. 
For her most recent album Amidst The Chaos, Bareilles drew inspiration from the women's movement, and in particular from the Women's Marches of 2017, which fiercely opposed policies made by President Donald Trump. Amidst The Chaos also features songs that Sara Bareilles wrote in collaboration with Lori McKenna, the singer-songwriter who is also featured in this broadcast. The song Saint Honesty, written in collaboration with McKenna, even earned Bareilles a Grammy for Best American Roots Performance on 26 January 2020.
Playlist:
During the program's introduction:
Lori McKenna – The Fixer (acoustic)
Composed by: Lori McKenna
YouTube Nashville Sessions https://www.youtube.com/watch?v=z7KXU1M116I
Sara Bareilles – Saint Honesty
Composed by: Sara Bareilles, Lori McKenna
Album: Amidst The Chaos
Label and Year: Epic 19075931042, C. 2019
Followed by:
Lori McKenna – Bible Song
Composed by: Lori McKenna
Album: Bittertown
Label and Year: Signature Sounds Recordings SIG 1285, C. 2004
Lori McKenna – Lone Star
Composed by: Lori McKenna
Album: Bittertown
Label and Year: Signature Sounds Recordings SIG 1285, C. 2004
Lori McKenna – People Get Old
Composed by: Lori McKenna
Album: The Tree
Label and Year: CN Records, C. 2018
Lori McKenna – The Fixer
Composed by: Lori McKenna
Album: The Tree
Label and Year: CN Records, C. 2018
Lori McKenna – Humble and Kind (acoustic)
Composed by: Lori McKenna
On YouTube: https://www.youtube.com/watch?v=iw9b3mhsOHg
Lori McKenna – Humble and Kind
Composed by: Lori McKenna
Album: The Bird and the Rifle
Label and Year: CN Records, C. 2016
Lori McKenna – A Mother Never Rests
Composed by: Lori McKenna
Album: The Tree
Label and Year: CN Records, C. 2018
Lori McKenna – All These Tings
Composed by: Lori McKenna
Album: The Bird and the Rifle
Label and Year: CN Records, C. 2016
Lori McKenna – Old men Young Women
Composed by: Lori McKenna
Album: The Bird and the Rifle
Label and Year: CN Records, C. 2016
Sara Bareilles – Armor
Live from The Town Hall in New York City in radio show Live From Here, 14 december 2019
Composed by: Sara Bareilles
Audio via https://www.livefromhere.org/shows/2019/12/13/sara-bareilles-los-lobos-sarah-jarosz-isaac-powell-of-west-side-story-maria-bamford-dave-hill
Sara Bareilles – She Used To Be Mine
Composed by: Sara Bareilles
Album: What's Inside: Songs From Waitress
Label and Year: Epic 8875160632, C. 2015
Sara Bareilles – Gravity
Live from The Town Hall in New York City in radio show Live From Here, 13 april 2019
Composed by: Sara Bareilles
On YouTube: https://youtu.be/J__Ulo_XRgw
Sara Bareilles – Saint Honesty
Live from The Town Hall in New York City in radio show Live From Here, 13 april 2019
Composed by: Sara Bareilles, Lori McKenna
On YouTube: https://youtu.be/J__Ulo_XRgw
Sara Bareilles – Someone Who Loves Me
Live from The Town Hall in New York City in radio show Live From Here, 13 april 2019
Composed by: Sara Bareilles
On YouTube: https://youtu.be/J__Ulo_XRgw
Sara Bareilles (als Maria Magdalena) – I Don't Know How To Love Him
Music and lyrics: Andrew Lloyd Webber, Tim Rice
Jesus Christ Superstar Live In Concert (DVD), NBC live tv-recording, 1 april 2018 / Sony, C. 2018
All quotes from both singers in this broadcast were found in the following interviews:
Lori McKenna Talks Fame, Family And Sings From Her New Album The Tree, listen here
Lori McKenna – I Played The Ryman – WSM Radio
Lori McKenna – Massachussetts 4.23.13
Sara Bareilles on her path to writing Waitress: 'My life took nothing but left turns'

Produced by: