Tango Fusión
Episode 15 : I Fiamminghi
In today's episode you can listen to I Fiamminghi (the Flemish orchestra). This Brussels chamber orchestra was founded by conductor Rudolf Werthen and performed from 1984 up to 2003.
The repertoire of the ensemble varies from ancient Italian baroque music to more recent works by living composers like John Taverner and Antonio Vivaldi, and also works by Annelies van Parys and Tōru Takemitsu from Tokio.
The chamber orchestra covered a very wide area and sought cooperation with famous composers and musicians. In 1999, for example, I Fiamminghi released a CD on which they mixed classical music and tango. The CD was titled Tango – la elegia de quienes ya no son (Tango, the elegy of those who are no longer here).
Performing artists
Juan José Mosalini (bandoneon), Osvaldo Calo (piano), Leonardo Sanchez (guitar), Otto Derolez (violin), György Schweigert (bass), Laura Fernandez Lahera (vocals), Fulvio Paredes (guitar), Eduardo Baro (verteller), conductor Rudolf Werthen.
The composers are Sebastián Piana (no. 2), Alberto Troilo (no. 3) and all other tracks are compositions by Astor Piazzolla.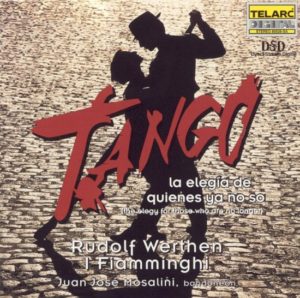 Playlist
1     Lo Que Vendra, I Fiamminghi
2    Caserón de Tejas, for voice & guitar , I Fiamminghi; Laura Lahera, vocals
3    A Homero, I Fiamminghi; Laura Lahera, vocals
4    Melodia en La menor , I Fiamminghi
5    Milonga del Angel, I Fiamminghi
6    El Tango, I Fiamminghi;  Eduardo Baro, vocals
7    No. 1 Preludio 9, I Fiamminghi
8    Oblivion, I Fiamminghi
9    Tanguedia, I Fiamminghi
10  No. 3 Knife fight, I Fiamminghi
11   No. 1 Street tango, I Fiamminghi
12   Four for Tango, I Fiamminghi