Thou singest ye carol
Evert Jan Nagtegaal and the Art of Song
'Monsieur Mélodie'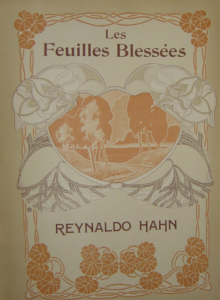 Reynaldo Hahn (Caracas, 9 August 1874 – Paris, 28 January 1947) – Part 2
All works by Reynaldo Hahn.
I. 'Les Feuilles blessées' (lyrics Jean Moréas)
Dans le ciel est dressé le chêne séculaire
Encor sur le pavé, sonne mon pas nocturne
Quand reviendra l'automne avec ses feuilles mortes
Belle lune d´argent
Quand je viendrai m´asseoir
Eau printanière
Donc vous allez fleurir encor
Compagne de l'éther
Pendant que je médite.
Roses en bracelet
Aux rayons du couchant
II. 'Five little Songs' (lyrics: Robert Louis Stevenson)
The Swing
 Windy nights
My ship and I
The Stars (Escape at bedtime)
A good boy
Hahn in World War I
III. From: Second Receuil
Quand la nuit n'est pas étoilée
Cantique (sur le bonheur des justes et le malheur des réprouvés)
La Délaissée
La Chère Blessure
Théone
Chanson au bord de la fontaine
Le Plus Beau Présent
Á Chloris
Baritone Tassis Christoyannis and pianist Jeff Cohen.

Produced & presented by: