Acoustic Roots
Ton Maas welcomes Raj Mohan & Ensemble in Acoustic Roots at Podium Oost, Utrecht
Raj Mohan sings geets, ghazals, bhajans and pop songs. He is a composer, singer-songwriter and poet. He is considered the most famous Sarnami artist in the Netherlands in the last thirty years.
In 1873, Raj Mohan's great-grandparents arrived as migrant workers in Suriname from then British India. Between 1873 and 1916, more than 35,000 Hindustani came to work in Suriname. They were called Sarnami. Even after 140 years, they have kept their own culture and language. Many of these Hindustani returned to India, others have stayed in Suriname and yet another group, including Raj Mohan, is now living in the Netherlands.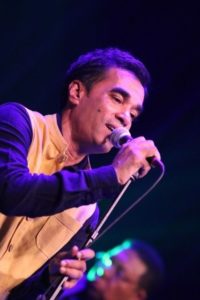 Raj Mohan developed his own style of songs and poems in the Sarnami-Bhojpuri language, called Sarnami geet and pop, a style that doesn't differ much from the  baithakgana folkmusic in Suriname. He has released five albums, including a bhajan album with Shri Anup Jalota, and has also published two books with poems in the Sarnami-Bhojpuri language. His latest album 'Dui mutthi' (2013) was released on the occasion of 140 years of Indian immigration in Suriname.
The members of his ensemble are:
Rai Mohan, vocals, tanpura, harmonium and guitar
Tammo Heikens, acoustic guitar
Mark Alban Lotz, bansuri, flute
Suresh Sardjoe, tabla
Melanie Tangkau, double bass
As part of the Old Roots New Routes concerts in March, Raj Mohan & Ensemble was supposed to perform their Hindustani blues from the diaspora. Unfortunately, these concerts have been cancelled due to the Corona virus.
Produced by: