Orient Express
With music by Ap Dawpel – The father of traditional Bhutanese music.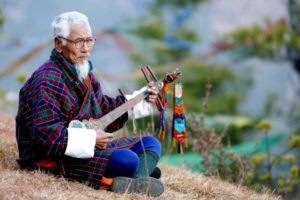 Ap Dawpel believes that his instrument the dranyen** is home to Yangchenma, the goddess of music. The dranyen belonged to my ancestors, who passed it on from generation to generation. According to them, the music produced by strumming on a dranyen is not music, but the goddess Yangchenma herself who sings. After 52 long years, Ap Dawpel made the decision in 2007 to stop playing the dranyen.
Cd. Traditional Bhutanese music – Songs from the Master – Ap Dawpel. Label: Bhutan Media Services – Thimphu (2003).
**Dranyen, is a traditional stringed instrument played in areas of the Himalayas, especially in Bhutan and Tibet. The Dranyen is a fretless, wooden Tibetan lute, played with a small hard pick. The instrument's name means translated sweet tones.

P l a y l i s t :
Dranyen Lam-dren…………..07:55
Pha Dren-pai dung-soel……15:16
Ney-la zang-so……………….02:20
Lu-gar thra-mo……………….10:32
Datong Trul-kui soong……..05:48
Sharehok goong-ta lam……02:46
Mi mijur no-tshe……………..09:06
Jaza Boe-la mi-dro………….05:36
Produced by:

Cobie Ivens