Acoustic Roots
Mariana Sadovska's programme 'Ukrainian Calling'.
Unfortunately, all planned live recordings by Acoustic Roots have been cancelled due to the Covid-19 virus. As soon as the situation permits, we will, of course, go all out again. Fortunately, we will be able to enjoy some splendid recordings from our archives.
At venue De Kargadoor, in one of the cellars along the Utrecht canals, our guest Mariana Sadovska performed with her song programme 'Ukrainian Callings'; folk songs from the Ukrainian countryside. Her live performance is expressive and overwhelming.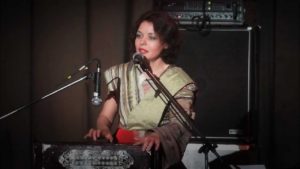 Mariana Sadovska, who was born in Lviv, Ukraine, collected traditional folk songs and folk tales during her many travels through the country.
With her programme Ukrainian Callings, Mariana leads you along the Ukrainian countryside. With her expressive voice, she performs old folk songs in a passionate way and full of drama, accompanying herself on a harmonium. She knows how to captivate her audience and leave them with bated breath.
Sadovska calls Ukrainian Callings 'a powerful fusion between singing and story telling': 'I do not sing songs I found in books. Each song I sing was given to me by a specific woman. I heard the story of the song, learned the way it should be sung, and understood that a song can be the map which leads you to your life.
Playlist:
1. The Star Asked – Traditional
2. Vdova – Traditional
3. Calling Bird
4. Putyrala
5. Midsummer Night
6. Song of Farwell – Traditional
7. Years of my Youth – Traditional
How to catch a bird of paradise of this size in a small net? You can't.
When recording, we always strive to compile a programme of one hour exactly.
However, this Acoustic Roots session was very special and we had such interesting conversations that the live recording turned out to be considerably longer than the available broadcast time. Within the Concertzender, music, of course, takes centre stage, so we had to take the scissors to cut the interesting and inspiring story of Mariana. Inevitably, the concept of 'kill your darlings' had to be applied here: making choices to leave out part of the conversations with pain in my heart, while hoping not to lose the essence of her story. As a result, the wastepaper basket was bulging with prose. Therefore, we decided to offer the integral conversations separately. You can find these below.
First conversation between Karin and Mariana Sadovska:
Second conversation between Karin and Mariana Sadovska:
Third conversation between Karin and Mariana, including Adriana Bron who introduced Mariana in the Netherlands:
Produced by: