Concertzender Live
A performance of Catrin Finch and Seckou Keita in the Nieuwe Kerk in The Hague on
9 November 2019.
On 9 November 2019, a double concert took place that many people had been looking forward to. Before the break, harpist Catrin Finch shared the stage with kora player and singer Seckou Keita. After the break, the Aka Trio performed, consisting of Seckou Keita (kora), Antonio Forcione (guitar) and Adriano Adewale (percussion). The double concert took place in the Nieuwe Kerk in The Hague.
Tonight you'll be listening to the performance that Catrin Finch and Seckou Keita gave before the break. Concertzender will broadcast the performance of the Aka Trio on Saturday 4 April at 14:00.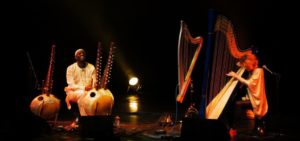 Catrin Finch, who comes from Wales, and the Senegalese Seckou Keita brought with them a blend of centuries-old melodies from Wales and West Africa. Catrin Finch is seen as the new star on the classical harp, while Seckou Keita is a virtuoso African harp (kora) player. They released their first album, titled Clychau Dibon, in 2013. The album immediately was a huge hit. Songlines designated their album as the album of the year. In addition, they won the Songlines Cross-Cultural Collaboration Award in 2014. Since then, their popularity has only increased. Their latest album Soar has also received numerous awards already. In their November performance, they also played a number of songs from that album.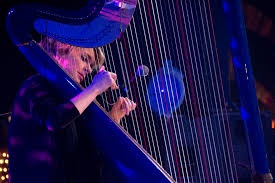 Playlist:
Clarach, Catrin Finch and Seckou Keita (06:36 – 06:26 applause excluded)
Teranga Bah, Catrin Finch and Seckou Keita (05:19 – 05:09 applause excluded)
1677, Catrin Finch and Seckou Keita (08:01 – 07:48 applause excluded)
Listen to the The Grass Grow, Catrin Finch and Seckou Keita (03:58 – 03:44 applause excluded)
Yama Ba, Catrin Finch and Seckou Keita (08:19 – 08:04 applause excluded)
Tryweryn, Catrin Finch and Seckou Keita (06:19 – 06:04 applause excluded)
Ceffylau, Catrin Finch and Seckou Keita (05:41 – 04:49 applause excluded)
Bach to Baisso, Catrin Finch and Seckou Keita (06:32 – 05:45 applause excluded)
Because we have some time left, we'll play the track Hinna-Djulo from the CD Soar by Catrin Finch and Seckou Keita
CD: Soar, Hinna Djino, Catrin Finch and Seckou Keita (2018) ARC Music Prod. Bendigedig, Bend12-1
Technique: Dirk Winkel
Producer: Wijnand de Groot
Produced by: