Concertzender Live
Concerts from around the country, recorded by Concertzender (World Music).
Concertzender wereldmuziek live: Oysterband – The 25th anniversary concert
Due to the COVID-19 restrictions, the team of Concertzender Live cannot present new concerts to you. To try and keep true to our programme, we will listen to live recordings, but these will be official CD or DVD releases.
Today, we'll listen to some songs from the DVD ' 25th-anniversary concert' of the British folk-rock band 'The Oysterband'. The concert was recorded in The Forum in London on 12 December 2003. The Uillean Piper James O'Grady, members of Chumbawamba, and folk singer June Tabor with whom the band recorded the successful album 'Freedom and Rain' in 1990. A setlist of the Oysterband consists of old traditional songs, edits of pop songs, and their own strong compositions. The band is at its best, they're bursting with enthusiasm, and the audience is going crazy. It's one of the best live albums out there.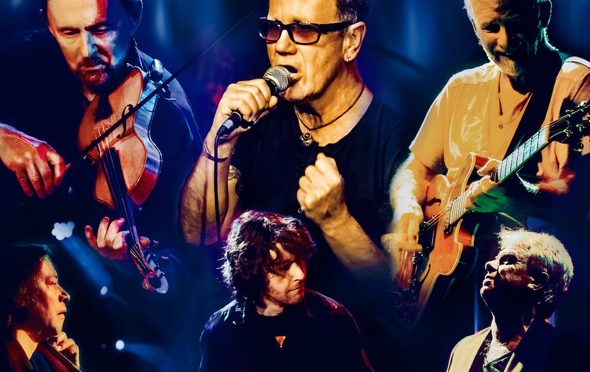 Oysterband – 25th anniversary live audio – Westpark Music DVD 87111
1a. intro
1b. Uncommercial song (Ray Cooper / John Jones / Lee Partis / Alan Prosser / Ian Telfer)
1c. Molly Bond (Trad. arr. John Jones / Ian Kearey / Alan Prosser / Ian Telfer)
1d. Mississippi summer (Si Kahn)
1e. White Rabbit (Grace Wing Slick)
2a. 20th of April (J H Cifuentes / I Martin / Ian Telfer)
2b. Everywhere I go (John Jones / Alan Prosser / Ian Telfer)
2c. Native son (John Jones / Alan Prosser / Ian Telfer)
3a. Blackwaterside (Trad. arr. Cooper / Jones / Partis / Prosser / Telfer)
3b. This is the voice (Ray Cooper / John Jones / Alan Prosser / Ian Telfer)
3c. When I'm up, I can't get down (John Jones / Alan Prosser / Ian Telfer)
4a. Put out the lights (Alan Prosser / Ian Telfer)
4b. Bright Morning star (Trad. arr. Cooper / Jones / Partis / Prosser / Telfer)
Produced by: