Disc-Cover!
Interesting albums from the folk and roots music history, by Marius Roeting.
In 1977 Chimera, a quintet from South Holland in the Netherlands, released their album Des Duivels Oorkussen.
Dutch folk fans are confused, pleasantly surprised, but still quite suspicious. What on earth is this? This type of revival folk was still unknown in the Netherlands. It reminds us of the French counterpart, the mastodont Malicorne. It is a hybrid of folk, rock and pop. It has a solid sound, though it cannot be called traditional or conservative. Even though, the majority of the songs contains texts and music that have been passed down from generation to generation. There are also nice resting points in the often quite long songs. The music is melodic with strong rhythmic accompaniment, especially the clattering bass in the style of Chris Squire (Yes). Marry Verkade's falsetto voice and recorder compensate in an exquisitely balanced own sound. Chimera is convincing, especially abroad. The team spirit is especially positive and it radiates creativity. In no time, they produced a stock consisting primarily of their own compositions, which led to a very fast successor, Obstakel. On this album Chimera perfects its own recognisable sound.  Though in 1982, at the height of their success, founders Bas an Marry Verkade decide to pull Chimera's plug. The family with young children and a full-time job, besides the musical escapades, require more attention. After a break of a few years, they start back up on a smaller scale, though sadly they have to stop again, because of physical limitations of one of the members. In the new century the Verkades get started again, this time joined by their son Marijn on bass. they release two new CDs; their first two of the group, because neither Des Duivels Oorkussen, nor Obstakel were ever re-released on CD. Des Duivels Oorkussen remains a distinctive album, one of the highlights of the Dutch(tongued) folk history.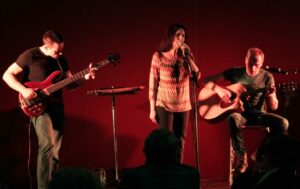 Chimera – Des duivels oorkussen – Stoof MU 7463
1.      Daphne 6:10
2.      Een Aardig Vrouwke 4:41
3.      Warris 8:11
4.      St Vitusdans 4:01
5.      De Droghen Haring 1:57
6.      De Loteling 9:20
7.      Des Duivels Oorkussen 5:47
8.      Een Boerman 6:12
Chimera – Uitgevlogen – personal management

9.      De Slaapwandelaar 3:42
Chimera – Gestolen lente – PAN Records 228
10.  De stoomwals 6:00
All tracks: traditional, arrangements Chimera.
Except for track 3 (Chimera); track 6: J.H Schaper, arr Chimera; track 7: trad/Chimera
Track 9 + 10: M & B Verkade.
Produced by: