Classical Matters
A selection of the CD releases discussed in the Klassieke Zaken (Classical Matters) magazine.
Two new CD releases: a. Birthday Odes for Queen Mary van Henry Purcell. b. Works for chamber orchestra by Arvo Pärt.
1. Henry Purcell (1659-1695). Arise my Muse (1690).
Carolyn Sampson, soprano. Iestyn Davies, countertenor.
Charles Daniels, tenor. Matthew Brook, bass-baritone.
The King's Consort conducted by Robert King.
[Vivat 122]
2. Arvo Pärt (born 1935).
a. Tabula Rasa (1977). [1+2 27.35]
b. Für Lennart In Memoriam (2006).  [8 06.15]
Renaud Capuçon & François Sochard, violin.
Guillaume Bellom, prepared piano.
Orchestre de Chambre de Lausanne conducted by Renaud Capuçon.
[Erato 0190295029579]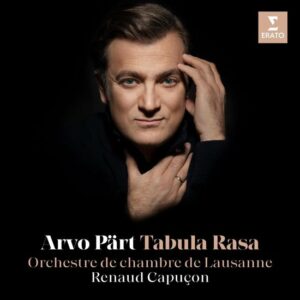 more information

This programme is compiled by Peter Nijland on behalf of Klassieke Zaken (Classical Matters). He is also the publisher of this free bimonthly magazine.
Produced by: