Orient Express
Traditional classical music from South and North Laos. Field shots by Laurent Jeanneau.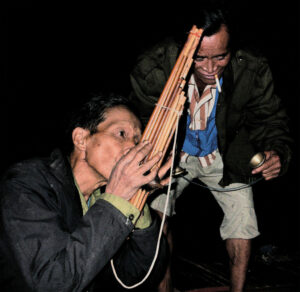 The Akuphone label presents a collection of recordings of different music genres from the Laotian provinces. These documents are an introduction to the traditional music of minority groups in Southern Laos. The most famous and typical is the molam Lao, a singing art accompanied by the khene, a harmonica that is the symbol of Laos. You will hear the gongs, bamboo flutes and mouth organs, as well as the powerful singing that accompanies these instruments.
These testimonials were recorded on site by Laurent Jeanneau between 2006 and 2013. The album sheds some light on a region of Southeast Asia that is still largely unknown.
CD. Music of Southern and Northern Laos – Laurent Jeanneau.
LABEL: Akuphone (2018), code: AKUCD1009-10.
Thanks to:


Produced by:

Cobie Ivens