Mariama
World music, compiled by Stan Rijven.
Highlife from Ghana, with Chief Kofi Sammy and Okukuseku International Band Of Ghana, selected by Kees Schuil from his collection of African records.
Kofi Sammy started his career in Kakaiku's Band. This orchestra was founded in 1954 by Moses Kwaku Oppong. When Kwaku was young, a Nigerian tenant lived in his parents' house. He had the habit of shouting "Kwaku, kai ku" at him, which means as much as "Kwaku, look here". And so "Kakaiku" became his nickname at school. When he formed Kakaiku's Guitar Band in 1954, he gave the band his childhood nickname.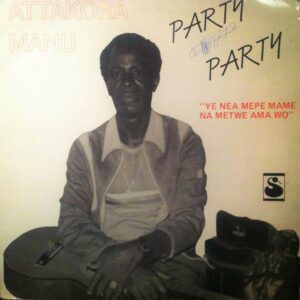 In 1967, Kakaiku formed Kakaiku's No. 2 Band, with Atakora Manu as its solo guitarist.
Some other well-known members of Kakaiku's Band were Eddie Donkor and C.K. Mann. Eddie Donkor later became a co-founder of the African Brothers Band, and C.K. Mann went on to join the band Carousel 7 in Takoradi.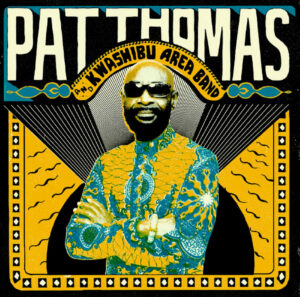 The song "Wo Abe Asow", from the 1972 single Akan Highlife, by C.K. Mann, was composed by Pat Thomas. This singer and songwriter was born in 1946 in the Ashanti Region. His real name is Nana Kwabena Amo Mensah. He is still active as a performer. In 2016, he performed at the Africa Festival in Hertme, The Netherlands. He also produced a new album in 2019. He is now 76 years old.
Eventually, Kofi Sammy quit Kakaiku's Band to join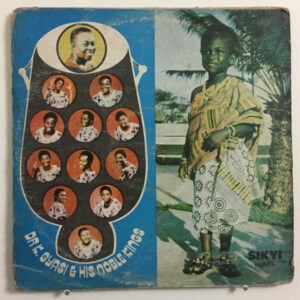 Dr. K. Gyasi and His Noble Kings.
In 1969, he formed the Okukuseku International Band Of Ghana, along with Water Proof, who was a member of E.K.'s No.1 Band.
Around 1970, he released a single featuring a very popular slow highlife song: "Agyanka Due". This means "Sorry Agyanka". The song is about a prostitute named Agyanka.
In 1970, Okukuseku's No.2 Guitar Band – another name by which the band is known – settled in Kumasi to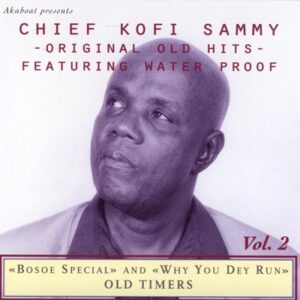 record music at the Ambassador Studios. In the years that followed, the economy in Ghana was struggling and there were no good recording facilities left, so the band left for Lagos in Nigeria. They recorded a few albums, but their music proved to be more popular in Eastern Nigeria. And so they left for Onitsha to record at Rogers All Stars (where Prince Nico Mbarga also recorded music). They continued to play highlife in Twi, but also added songs in Pidgin English and in Igbo.
There are hardly any good versions of the single "Agyanka Due" available. Even a new single on sale at the Essiebons record shop in Accra sounded as if it had been played far too often. There is another song with the same name and by the same band, but with a different melody. However, the original song "Agyanka Due" is part of the repertoire of the Oheneba E.K. Band:
Nana Kusi Berimah and the Oheneba EK Band perform Agyanka Due live at Sekyere Dumase
and the Adepa Band performs the song as well: Agyanka Due played by Adepa Band
The Oheneba E.K. Band even plays it at a funeral:
Oheneba EK Band performs old-timer Agyanka Due live at Atebubu
Playlist:
Kofi Sammy: Madanfo Pa Woa, CD Chief Kofi Sammy – Original Old Hits – Featuring Water Proof, Vol.2, Akuboat Production CAB 054, 3'08
Dr. Gyasi and His Noble Kings: Sei Na'zo, auteur: K. Meriguine, LP Highlife Time, 1970, Essiebons EBL 6113, 2'59
Kakaiku's Band: Kaa Bi Reba, auteur: Professor M. K. Oppong, 45 RPM, Executive ERC 1084, 3'13
Atakora Manu: Medofo Baako, auteur: Atakora Manu, LP Party Party, Stibaka Production AMA 852, 5'10
Eddie Donkor: Montwe Me Yaa, LP King of Rhythm Power, 1972, Gapophone Records ‎GAPO LP 05, 3'13
K. Mann & his Carousel 7: Wo Abe Asow, auteur: Pat Thomas, single Akan Highlife, 1972, Philips Phonogram C.O.P.S. PF 335260 2F, 3'14
Pat Thomas & Kwashibu Area Band: Odo Adaada, auteur: Pat Thomas, 2015, Strut STRUT126CD, 5'39
Okukuseku International Band Of Ghana: Tonola Afe, LP Bosoe Special, 1970, Ambassador (5) LPAM 004004 / CD Chief Kofi Sammy – Original Old Hits – Featuring Water Proof, Vol.2, Akuboat Production CAB 054, 5'37
Okukuseku's Guitar Band: Agyanka Due, 45 RPM, Executive ERC 1025 / Ambassador records ARM 703, 3'34
Okukuseku International Band Of Ghana: Wo Mpe Mea Gyae Me, LP Bosoe Special, 1970, Ambassador (5) LPAM 004 / CD Chief Kofi Sammy – Original Old Hits – Featuring Water Proof, Vol.2, Akuboat Production CAB 054, 3'34
Okukuseku International Band: Moma Yenka, auteur: Kofi Sammy, LP Okukuseku In Nigeria, 1977, Janco Records JRLP 018004 / CD Chief Kofi Sammy – Original Old Hits – Featuring Water Proof, Vol.2, Akuboat Production CAB 054, 3'25
Okukuseku International Band Of Ghana: Why You Dey Run, LP Black Beauty, 1970, RAS (2) RASLPS 045004 / CD Chief Kofi Sammy – Original Old Hits – Featuring Water Proof, Vol.2, Akuboat Production CAB 054, 7'39
Oheneba EK Band & Nana Kusi Berimah: Agyanka Due Live, YouTube: Nana Kusi Berimah and the Oheneba EK Band perform Agyanka Due live at Sekyere Dumase, 5'39
Produced by: