An Early Evening Stroll
The final episode of 'Felix and the String Quartet'.
Mendelssohn's compositions are sometimes criticised for being too sweet and too 'safe'. Some would argue that his music contains too few powerful emotions. This final broadcast of 'Felix and the String Quartet' is tailor-made for people who agree with these sentiments. Because when Felix heard about the sudden death of his dearly beloved sister Fanny, he opened all the floodgates of emotion in a fierce string quartet. Fanny also proved herself to be quite gifted in her only string quartet.
Felix Mendelssohn: String Quartet in F minor op. 80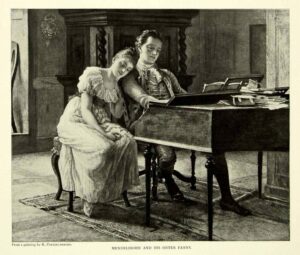 Quatuor Ébène
Fanny Mendelssohn-Hensel: String Quartet in E-flat major
Quatuor Ébène
Felix Mendelssohn: Andante and variations in E major op. 81
Talich Quartet
Produced by: