Wandering around Jewish music
Composition & presentation Gijs Lévelt, trumpet player AKB.
Program in the context of the 25th anniversary of the
Amsterdam Klezmer Band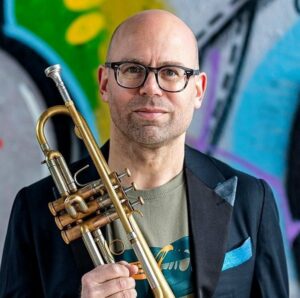 Gijs Lévelt, trumpet player, composer and teacher.
In his work he straddles the interfaces of world music, improvised music, contemporary composed music and pop music.
As a trumpet player, he is best known for his work with the Amsterdam Klezmer Band, with whom he has been touring the world since 1997, having released 15 albums and engaged in various international collaborative projects.
About  ||  Gijs Lévelt Spoken Quartet will perform at the Bimhuis on Wednesday 21 Sept. in Amsterdam.
P l a y l i s t :
* Romanza Belinfante/2 – Brisk Recorder Quartet. Composer: Gijs Lévelt.
* Mama Mia – Françoise Atlan.
* Sa'dawi – Ensemble Accentus.
* Notches Buenas – Ensemble Lyrique Ibérique.
* Quando El Rey Nimrod – Anthony Coleman Trio.
* Strijkkwartet: I. Allegro Molto Moderato – Belinfante Quartet.
* Nederwiet – Doe Maar.
* Katakofti – Amsterdam Klezmer Band & Galata Gypsy Band.
* Dolmuş havası – Gijs Lévelt Spoken Quartet.
* Romanza Belinfante/1 – Brisk Recorder Quartet. Composer: Gijs Lévelt.
—
Production: Cobie Ivens
Technician: Raph van den Driesschen
Thanks to: Muziekweb Rotterdam
Photo AKB: Tessa Posthuma de Boer
Produced & presented by: