Concertzender Live
Concerts from around the country, recorded by Concertzender (World Music).
Episode: Trio SonCe and Dareyn (Houtfestival 2022)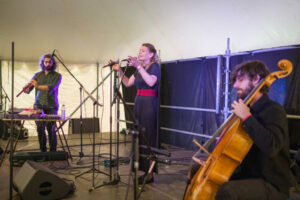 At the Haarlem Houtfestival 2022 on Sunday, 19 June, Trio SonCe performed, consisting of three musicians with backgrounds in traditional, improvised, and jazz. The trio performed songs from its debut album 'Five Seasons'. On it, Maryanka Golovchenko sings old Ukrainian folk songs belonging to different seasons or celebrations. Songs with poetic lyrics about nature, traditional rituals, or themes such as love, family and connection. Cengiz Arslanpay and Pau Sola Masafrets enrich the music with the soft and melancholic sounds of cello, flute and electronics.
Another trio performed at the Wood Festival is Dareyn, featuring three musicians from entirely different backgrounds, first and foremost founder Emine Bostanci (Turkey), who plays the kemenche, then Dutch-Russian top cellist Maya Fridman and finally percussionist Jacobus Thiele.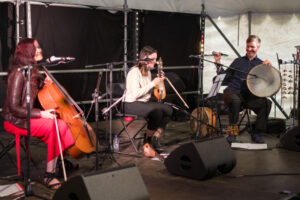 This unique collaboration produces beautiful music: compelling melodies and vocals, enchanting sounds and rhythms. Sometimes quiet and soothing, occasionally melancholic, at other times playful or exhilarating.
https://www.facebook.com/dareynensemble
https://www.facebook.com/trioSonCe
Playlist:
1 Trio Sonce Christmas Magic 4'23
2 Trio Sonce Triptych Me 7'00
3 Trio Sonce Grey Geese 3'34
4 Trio Sonce Green Festivities 4'14
5 Trio Sonce onbekend 7'15
6 Trio Sonce Mint and Lullaby 6'39
7 Trio Sonce Wedding 3'51
8  Dareyn piece 1 5'10
9  Dareyn piece 2 4'18
10 Dareyn piece 3 7'55
11  Dareyn piece 7 4'03
Technical engineer: Wijnand de Groot