Wandering around Jewish music
Composition & presentation Janfie van Strien, clarinetist AKB.
Program in the context of the 25th anniversary of the
Amsterdam Klezmer Band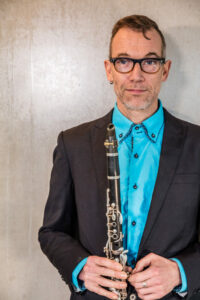 Janfie van Strien.

Clarinettist, has been playing with the Amsterdam Klezmer Band for over twenty years. Like the other members of the AKB, he regularly writes for the band.
Besides the clarinet, he also plays the saxophone and writes for studio projects, theater and sometimes film.
He is a busy musician in various bands, ranging from (modern) Jazz to world, pop, oriental and Balkan.
VIDEO : Janfie, Paradiso, Amsterdam.
VIDEO : Janfie, AKB – Tripping.
P l a y l i s t :
01. Mickey Katz & his Orchestra – Grandma's Draidl
02. John Zorn – Masada: Alef – Jair
03. Farmers Market – Balkan Boogie
04. Selim Sesler – Şehnaz Longa
05. Mustafa Kandirale – Tokat
06. Dave Taras, Bagelman Sisters – Vaibele a tsnien
07. Amsterdam Klezmer Band – Stompin Mokum
08. Amsterdam's Andalusisch Orkest – Lama Bada Yatathanna
09. Vasile Pandelescu – Sarba de la pitesti
10. Benjamin Herman, Idris Muhammed – Joe's Bar Mitsvah
11. Belfs Romanian Orchestra – Khosidl
12. Trio Chios & Husnu Senlendirici – Ada Sahilleri
13. Ivo Papasov – Bulchenska Rachenitsa
—
Productie: Cobie Ivens.
Technicus: Benno Wormgoor.
Met dank aan: Muziekweb Rotterdam.
Foto AKB: Tessa Posthuma de Boer.
Produced & presented by: