Concertzender Live
Concerts from around the country, recorded by Concertzender (World Music).
Episode: Suran Ensemble (Iranian) and Huun-Huur-Tu (Tuva)
This broadcast features a recording of the Suran ensemble recorded on 10 September 2022 at the music centre the X in Leiden ( The X Leiden).
The Suran ensemble focuses mainly on Iranian classical and traditional music. It is a flexible ensemble that can take on different line-ups and sizes and consists of the younger generation of top musicians. In Leiden, a trio performed in the following line-up.
Shahab Azinmehr, who graduated in Persian music. Initially, he focused mainly on Persian singing, but then he also learned to play tar (long-necked lute strung with skin) and setar (4-stringed long-necked lute).
Also, kemancheh player Mostafa Taleb was born in 1993 in Lorestan, the centre of traditional kemancheh culture in Iran.
Finally, Belgian percussionist Robbe Kieckens, whose skills include Middle Eastern percussion, such as the tombak.
It was an enchanting performance with plenty of room for improvisation, as is often the case in Persian music.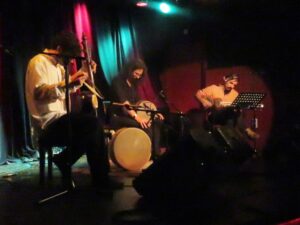 Also in this broadcast, another unaired song ( titled Odugen Taiga ) from the concert by the Tuvan group Huur-Huur-Tu on 11 March 2022, recorded for The X. The rest of that fine concert can be found here concert Huur-Huur-Tu.
Sound engineering : Wijnand de Groot