Wandering around Jewish music
Composition & presentation Jasper de Beer (bass, guitar, banjo, vocals) AKB. As part of the 25th Anniversary of the
Amsterdam Klezmer Band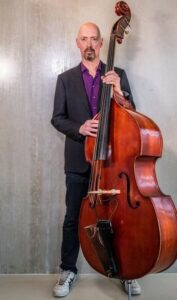 Jasper de Beer.
An accomplished composer with a proven history of working in the music industry. Skilled in original music, bass, improvisation, songwriting and soul. Strong art and design professional with a bachelor focused on bass, jazz at the Conservatory of Amsterdam.
He is band leader, bassist, composer and multi-instrumentalist of, among others, Amsterdam Klezmer Band and Naked Ears, an Amsterdam music collective founded by Jasper, consisting of leading artists from the Dutch jazz, world music and pop scene.
Video : Jasper de Beer, double bass improvisation.
Video : Naked Ears promo.
Video : Jasper de Beer & Gijs Levelt.
P l a y l i s t :
01. Purple Skies (J.de Beer), Naked Ears.
02. In the hall of the mountain king Edvard Grieg, Peer Gynt nr.01.
03. Briul Oltenesc, Gheorghe Zamfir.
04. Popcorn, Gershon Kingsky (1969).
05. Suite No.1 BWV 1007 G-major J.S. Bach by Michiaki Ueno.
06. Mogaloid, Devo (1978).
07. Bereite dich Zion bwv 248/part-1, Weinachts Oratorium, J.S Bach.
08. Public Image, Public Image Limited.
09. Paduana Lachrimae, Anton de Beer (Aula Teylers Museum).
10. Boogie Chillen, John Lee Hooker.
11. Eruption, Van Halen.
12. Give it up turn it A loose, James Brown.
13. Geamparale, Taraf de Haidouks.
—
Production: Cobie Ivens.
Technician: Raph van den Driesschen.
Thanks to: Muziekweb Rotterdam.
Photo AKB: Tessa Posthuma de Boer.
Produced & presented by: