Nuove Musiche
New CDs with Early Music. Attention to two recently released CDs with music for Advent and Christmas: "Es ist ein Ros" by conductor Hans-Christoph Rademann and "Auf, jauchzet ihr Christen – Christmas Cantatas" by Kölner Akademie.
The first CD was released in the Praetorius memorial year 2021: Michael Praetorius died in 1621 (and was almost certainly born in 1571). The recording appeared at the end of the year, which is why it contains only music for Advent and Christmas.
The second CD contains four cantatas by Ernst Wilhelm Wolf, one of the composers of the generation of Bach's sons, who has recently come into somewhat greater prominence.
Michael Praetorius (1571-1621)
1. Nun komm der Heiden Heiland a 4
2. Vom Himmel hoch da komm ich her a 8
3. Es ist ein Ros entsprungen a 4
4. Resonet in laudibus a 7
5. Puer natus in Bethlehem a 3, 7 & 11
Iabel Schicketanz, soprano. Jonathan Mayenschein, alto. Christopher Renz, tenor. Martin Schicketanz, bass. Dresdner Kammerchor and instrumental ensemble conducted by Hans-Christoph Rademann
(CD: "Es ist ein Ros" – Accentus Music ACC30505, 2021)
Ernst Wilhelm Wolf (1735-1792)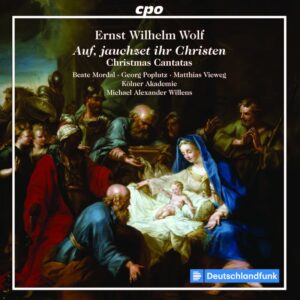 6. Christmas cantata "Auf, jauchzet ihr Christen"
7. Christmas Cantata "Seid böse, ihr Völker".
Beate Mordal, soprano. Georg Poplutz, tenor. Matthias Vieweg, bass. Kölner Akademie olv. Michael Alexander Willens
(CD: "Auf, jauchzet ihr Christen – Christmas Cantatas" – CPO 555 524-2, 2022)
addition:
Johann Ludwig Krebs (1713-1780)
8. Nun freut euch, lieben Christen gmein
Manuel Tomadin, organ
(CD: "Complete Organ Music" – Brilliant Classics 95363, 2018)
Produced by: