Concertzender Live
CZ Live Global
Classical music from Afghanistan: a recording of the concert by the Afghan Anim Ensemble on Nov. 5, 2022 in front of music venue "the X" in Leiden.
As the name suggests, the musicians are affiliated with the ANIM, or Afghan National Institute of Music, the institute dedicated to the preservation and dissemination of Afghan musical culture. It was based in Kabul until the Taliban seized power but then was forced to relocate to Portugal.
The ANIM ensemble is led by Ustad Mohammad Murad Sarkhosh, who has been rector of the ANIM since 2006 and in that capacity tries to keep the torch of Afghan music burning. In Leiden, he was joined by four talented young students, including young rubab maestro Ramez Safar.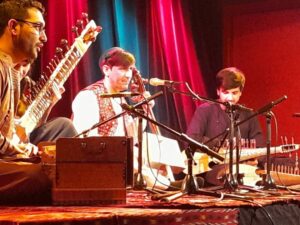 The ANIM Ensemble shows how wonderful and diverse the Afghan musical tradition is. Its classical music is very much akin to North Indian classical music, with which there has been much exchange especially since the 19th century. In addition to classical music from southwestern Afghanistan, the group also plays Sufi music and pieces from the Afghan part of Badakshan.
link: ANIM
NOTES. World Music Club with non-stop world music will be an hour later, every Friday night at 11 p.m. from now on.
1 Shad Khon 2'50
2 Farwardin 3'15
3 Rag Baherrove 14'32
4 Herabi 4'23
5 title unknown 4'11
6 unknown 3'41
7 unknown 3'57
8 unknown 3'42
9 unknown 4'02
10 Kayak abro 3'07
11 Badakhshan 3'58
12 Pari Roh 3'10
13 Shokh 4'50
Occupation:
Ustad Murad Sarkhosh – Ghichak, Kashgar Rubab, Vocals
Huma Rahimi – Sitar
Ramez Safar – Afghan Rubab
Bilal Asify – Harmonium
Ustad Ibrahim Ibrahimi – Tabla
Produced by: