Acoustic Roots
English singer-songwriter duo Phillip Henry and Hannah Martin can be heard live in our living room studio in the Conclusion building on the 19th floor.
Phillip Henry and Hannah Martin have been working as a duo for over 7 years. Though Phillip is originally from Lancashire, both of them now live in Devon.
Hannah was originally sought to become Tobias Ben Jacob's musical partner, replacing Phillip Henry who went to India to study slide guitar at virtuoso Pandit Debashish Bhattacharya (www.debashishbhattacharya.com). When he returned from his musical trip, they formed a trio for a while, which eventually led to Phillip and Hannah forming a duo.
They found their own original voice as a duo, which is mainly due to their instrumental and vocal talents, but also due to their good lyrics and special arrangements. On their second CD, Mynd, they show what their musical chemistry can lead to.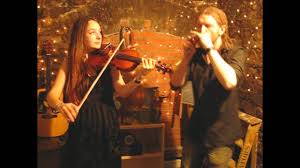 The way Phillip plays slide guitar, dobro and Indian chatturangui is a strong foundation to work from. Add to that Hannah's violin, viola, tenor guitar and banjo, and you get a beautiful joint performance. But it is mainly Hannah's voice that makes their performances so special, though both voices also fall into harmony quite beautifully.
During their performance in Acoustic Roots, the studio was full of instruments that were all used. They show how original and modern they can be when they play a traditional song as The Nailmakers' Strike. It is a song about the Bromsgrove Nailmakers' protest march from 1862, that they bring to life in a whole new way. Phillip plays a mouth organ introduction, during which he also beatboxes to the chorus of 'Abyssinians Declaration of Rights', a classic reggae song from the 70s Rasta movement. Silbury Hill narrates a story about a trip on foot that Phillip and Hannah made to West Kennet Long Burrow, where they felt like they had gone back in time 5000 years.
All the songs they play can be found on the CD Mynd, Dragonfly Roots Devon.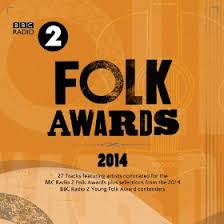 At the start of this month they were named Folk Duo of 2014 by BBC 2.
Producer: