Acoustic Roots
Karim Baggili a guest at Acoustic Roots at the Kargadoor, Utrecht on Friday 14 October 2016.
Karim Baggili, who lives in Belgium but has a Jordan-Yugoslavian background, is a composer and singer and taught himself to play the guitar and ud. He started playing the electric guitar at the age of six. And when he was twenty, he bought an Arabian lute aka an ud during a visit tot Jordan.
Baggilli has made a big name for himself. He has released five albums: Douar, Cuatro con Cuatro, Lea & Kash and Kali City, and his last album entitled Apollo You Sixteen.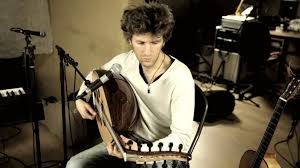 Crunchy ud and arpeggio guitar play
As Kali City was a return to his roots through the ud, he felt the need to make his new compositions more technically complex, but keeping the melodic lines. The result is an original and personal album with a blend of grooves, electronics and classical, illustrated by crunchy ud and arpeggio guitars play. His style is also called Arabic Flamenco music.
Line-up:
Karim Baggili – guitar, ud, vocals
Youri Nanaï – bass
Vivian Ladrière – percussion
Mohammed Al Mokhlis – violin
1. Bella Fi's Love
2. Apollo You Sixteen
3. Back 2 In The Bus
4. Exitimuse
5. Prismo Za Vas
6. Apollo Recall
7. Deep Trio
8. Balka Bike
9. Mister Lee
Produced by: