Acoustic Roots
In our 'living room', Karin van den Boogaert and Carolien Cleiren receive all manner of World Music performers. Theo Mackaay is the guest of the Kargadoor in Utrecht.
Theo Mackaay is a musician, painter and sculptor. He made one of the most famous statues of the Netherlands: The Golden Calf of the Dutch Film Festival.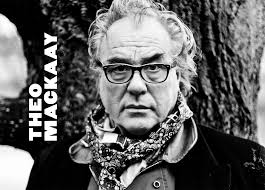 His CD "Met de hemel weet je het nooit" (With heaven you never know) was released late last year, and is powerful, personal and relevant. Subjects such as loss, friendship, love and the meaning of life are addressed. Theo Mackaay will be accompanied by guitarist/pianist Matthijs Spek.
The concert will be recorded in The Kargadoor, Oudegracht 36, Utrecht, Friday 9 June, doors open at 20:00 p.m.
It is possible to attend. Tickets are 5 Euros.
Performers:
Theo Mackaay, singer-songwriter, guitar
Matthijs Spek, guitar, piano
Produced by: