Carib Calling
Special Guest: Edgar Burgos. Music from Suriname, Caribbean and South America. A program based on an idea by Noraly Beyer about 'Special Guests' who are allowed to determine their theme and music themselves.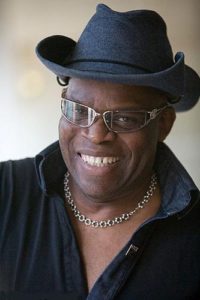 Special Guest:
Edgar Burgos
Theme:
Influence of different national and international artists.
Hostess:
Noraly Beyer
After having played in several top-exotic orchestras both in the Netherlands and in Suriname, Edgar, together with Harold Biervliet, Lesley Leeflang, Ricardo Tjon Akon and Iwan Vaudelle decided in 1981 to start the group Trafassi. They play a varied repertoire of merengue, kaseko, salsa, zouk, calypso … In the 80s and 90s, Trafassi was the most successful Surinamese band in the Netherlands.
Tribute: in 2014 Edgar Burgos received the Andreas medal from the deputy mayor of Amsterdam. The medal is awarded to people who have performed for the city with a national appearance in the field of sports, science, journalism, art, politics, economy, media, education or museums.
Photo: Hans Spreekenbrink.
Play list:
1. Only a fool, Mighty Sparrow
2. Woman, James Brown
3. Suriman, King Fighter
4. No madam, Calypso Rose
5. Ala pikin nengre, Big Jones
6. Try a little love, Oscar Harris
7. Kodoku loeku boeng
8. Adjossi, Max Nijman
9. Song for Suriname, Trafassi
Production & direction:
Cobie Ivens.
Thanks to:
Salto Amsterdam.
Repetitions:
Saturday 9 June 2018, at 03:00 and 22:00.
Produced by: