Chronicle of Dutch Music
Works by Johannes Schenck (Amsterdam ca. 1656 – Düsseldorf ca. 1712/16).
1. From: Le Nymphe di Rheno (1702): Sonata no. 11 in G.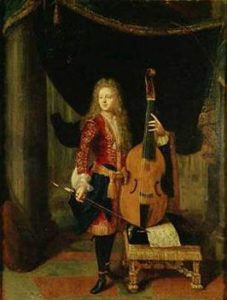 Wieland Kuyken and François Joubert-Caillet, gamba.
2. From: L'Echo du Danube (1706): Sonata no. 2 in a.
Trio Sonnerie.
3. From: Il Giardino Armonica (1691): Sonata Terza in g.
La Suave Melodia.
4. Parts from the opera 'Bacchus, Ceres and Venus (1686).
Camerata Trajectina conducted by Louis Peter Grijp.
Produced by: