Composer of the Month
Compiled by our Classical Music desk.
This month, our composer of the month is the Franco-Flemish composer Johannes Ockeghem (approx. 1410-1497), his peers, and others.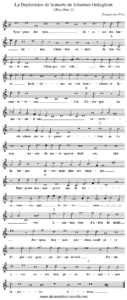 1. Johannes Ockeghem (approx. 1410-1497).
Introit, Kyrie, Epistola, Graduale, Tractus & Evangelium from the Requiem.
Ensemble Organum conducted by Marcel Pérès.
2. Igor Strawinsky (1882-1971). From the Mass: Kyrie & Gloria (1944).
RIAS Kammerchor conducted by Daniel Reuss.
3. Ernst Krenek (1900-1991). Sestina, Opus 161.
Bethany Beardslee, soprano. Instrumental Ensemble conducted by Ernst Krenek.
4. Josquin des Prez (approx. 1450-1521).
La déploration de la morte de Jehan Okeghem.
Nederlands Kamerkoor conducted by Paul van Nevel.
Produced by: