Concertzender Live
Part two of the concert by NO Blues that took place in the recital hall of the Tropentheater in Amsterdam on 22 November 2012.
NO Blues consists of: Ad van Meurs, guitar, vocals. Haytham Safia, u'd, vocals. Anne-Maarten van Heuvelen, contrabass, vocals. Osama Maleegi, percussion and Ankie Keultjes, vocals and technician.
They perform songs from all albums released plus a preview of a CD that will come out on 15 September titled 'Kind of No Blues'.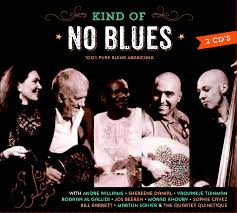 On Sunday 29 September, the double album will be presented at the Poppodium Burgerweeshuis in Deventer at 3 PM.
Kim's Dream, NO Blues.
Sawt, NO Blues
Empty Bottle, NO Blues
Le, NO Blues
Ommi, NO Blues
Long Legged Woman, Freddie King, NO Blues
Longa Riad, NO Blues
Farewell Shalabye
Dancing, NO Blues
Hard Killing Floor, Skip James
Recording technician is Wijnand de Groot, the producer is Oriane van der Heijden.
Producer: