Concertzender Live Prologue
A prologue by Govert Jan Bach on the broadcast of the B Minor Messe by Bach, live performed by Bach Collegium Japan led by Masaaki Suzuki.
Govert Jan Bach introduces Masaaki Suzuki and the Hohe Messe.
During his introduction he will play fragments from:
Johann Sebastian Bach
1. Toccata & Fugue In D Minor, BWV 565
Masaaki Suzuki, Schnitger-Hinz organ, Martinikerk Groningen
2. From Concerto for 2 Keyboards in C Minor, BWV 1062: I. (Allegro)
Masaaki Suzuki & Masato Suzuki, harpsichord
3. From Cantata BWV 198 "Lass, Fürstin, Lass Noch Einen Strahl": Doch Königin! Du Stirbest Nicht
Bach Collegium Japan, Masaaki Suzuki conductor.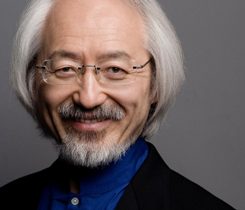 Fragments from the Hohe Messe (Concertgebouw Amsterdam, 04.19.2016):
4. Quoniam tu solus sanctus
5. Kyrie
6. Christe eleison
7. Credo
8. Et Expecto
Bach Collegium Japan, Masaaki Suzuki conductor
(recording: Wijnand de Groot and Sem de Jongh)
Photo above: Govert Jan Bach
Photo below: Masaaki Suzuki
Producer and presenter: