Concertzender News
The Concertzender's musical week activity programme. With CD of the Week, the concert diary, interviews with guests and focus on upcoming exhibitions.
With the CD of the Week.
Host today: Gerard Meulenberg
N.B. Order and playlist are conditional.

1. CD of the Week

Music: El Aire se Serena
Performing artists: Seldom Sene
[Brilliant Classics   95304]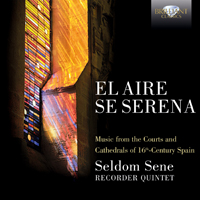 2. Early music
3. Concert diary
 
4. Classical music


Special about Nikolaus Harnoncourt including an interesting lecture he held about the fourth part of the 9th symphony of Bruckner. For a long time, the unfinished 9th symphony only had three parts; Bruckner died before he could finish the fourth part. A few attempts were made at reconstructing the fourth part but nothing could equal the brilliance of Bruckner himself. Until Harnoncourt got the ingenious idea to perform the fragments and snippets of this mysterious fourth part that had been left behind by Brucker exactly in the way he had written them down. It was a revelation to Bruckner fans: battered and under construction new themes and a moving chorale revealed themselves, instructions and onsets to a coda that will remain silent forever.
Music: Wiener Philharmoniker.

5. Early music
In the following places in the Netherlands you can enjoy several Passion performances:
Matthäus Passion by the Luthers Bach Ensemble:
10 March: Dorpskerk Vries, start 7.30 pm
11 March: Nicolaikerk Appingendam, 7.30 pm
12 March: Der AA-kerk Groningen, 7.30 pm
9 and 10 March: Johannes Passion, Amsterdam North by Barokensemble Eik en Linde.
11 and 12 March: Johannes Passion, Zwijndrecht by Dutch Baroque Orchestra and Dutch Baroque Vocal Consort conducted by Gerard de Wit.
13 March: Brockes Passion by Händel, Keiser and Telemann performed by Bachkoor Brabant conducted by Geert van den Dungen.
From 15 March: the Matthäus Passion at several locations performed by Holland Baroque and The Nederlands Kamerkoor conducted by Reinbert de Leeuw.
More music by Bach: 11 March in Huis te Poort in Schiedam violinist Mira Glodeanu plays works for baroque violin with the Chaconna by Bach and other works.
12 March in the Main Hall of the Muziekgebouw in Eindhoven, start 1.30 pm: Organ player Léon Berben plays works by Bach and others, from his Clavierübung III.
6. The museums
Stedelijk Museum, Alkmaar.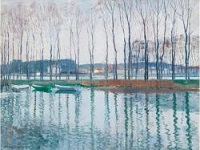 Landscapes, still lifes and travel impressions by Gerrit Willem van Blaaderen (1873-1935). The exhibition is on show until 28 August. Music: Gerard von Brucken Fock (1859-1935), Allegretto Grazioso from Cello sonata in E minor.
Performing artists:Larissa Groeneveld, cello. Frank van de Laar, piano. More info
7. Contemporary music

8. ..listen up…
Column by Robbert Jan de Neeve.

9. Jazz

10. Concertzender live
Producer: